Ref:
Date:
Location:
Photographer:
[clikcontent type=paymentBuyLink replaceable=true]
Ref:
Date:
Location:
Photographer:
[clikcontent type=paymentBuyLink replaceable=true]
Club news archive
President's Prattle - Presentation Evening and Buffet
by David Cottrell 30 April 2019
This is arguably the happiest meeting of the year, when the successes of so many Club members are recognised and celebrated. Peter Maguire and Maggi Shepherd had put in a lot of work behind the scenes to ensure that all the certificates and trophies were ready to be presented in an orderly fashion. We were delighted to see a number of new faces coming forward to receive their accolades, although it's always good too to see old hands continuing to do very well too.
There isn't space here to mention all the winners and "commendeds" by name, but special mention needs to go to Joan Sheppard who received so many awards (including both "Photographer of the Year" and "Competitor of the Year") that she almost needed a wheelbarrow to carry them away! Hearty congratulations to Joan, who also had her image "Kingfisher with Fish 2" chosen by members to grace the front of next year's programme.
The President's Choice Award is a pleasure to give, although choosing to whom it should go can be a tricky task as several members deserve it but there's only one award to give. This year I chose to give the award to Joan Hall, who has done so much over the last few years to help the Club. In particular, she's taken a very major role in the summer training programmes, which have been very well received and attended, besides taking such a big part in the organisation of our exhibitions at the Central Library. Well done Joan, and thanks so much for your hard work.
I wish all members a very happy summer of taking photographs, and look forward to seeing you at the first meeting of the next session in September at our new venue, the Duke of Wellington. I may well see many of you in the meantime, of course, at training sessions or just at drinking/chatting sessions at the pub!
President's Prattle - Annual General Meeting
by David Cottrell 23 April 2019
This was, of course, my first time of chairing the AGM so it was a slightly daunting experience. As usual, the first part of the meeting involved reports from various Committee members on the last year, and the Club is very grateful to all those within and outside the Committee who work so hard to make the Club the success which it is.
The next part of the meeting involves the election or re-election of Club officers. Most of the existing Committee members were happy to offer themselves for re-election and these were gladly accepted by the members. Ian Woodrow was due to stand down after many years of service as Treasurer, and Kenneth Moore was happily accepted as his replacement.
The final part of the AGM provides the opportunity for members to have their say on how the activities of the Club are organised. The Committee was delighted that so many members attended to take part in these discussions and to provide constructive suggestions as to how the Club can improve. Several rather contentious matters were discussed, and as it isn't possible to "please all of the people all of the time" we decided to hold a vote on the more controversial aspects of the plans for the coming year, to try to ensure a democratic mandate for the decisions which were made. It was gratifying that members took part in these votes with enthusiasm. I wish that it were possible for everyone to be happy with every decision but clearly that isn't feasible, but I hope that everyone at least feels that the decisions were made in the best way.
The minutes of the meeting, taken by our Secretary Maggi, will of course be circulated in due course.
President's Prattle - Nature Competition
by David Cottrell 16 April 2019
We had postponed the Photowalk which was originally planned for this evening, in order to accommodate the judging of the Nature Competition which was moved back from March owing to the large number of entries for that and the Set Subject Competition.
Richard Spiers kindly came over again from Carlisle as our judge, and as usual he did an excellent job. His experience as a judge clearly shows through: his comments were incisive, pertinent and relevant. He always finds good points in every entry and supplements those with highly constructive suggestions for improvement. This is mixed with a humorous, lively delivery which keeps everyone amused: there were hoots of laughter when he told us that the most common form of owl in the UK is the "Teat Owl"…(say it quickly!).
Richard was gratifyingly complimentary about the overall standard of the entries, and he gave several photos a Commended or Highly Commended rating. The winners were:
1st: Don Smith with "Bittern Clearing the Way"
2nd: David Brown with "Sanderling Flock with Single Dunlin"
3rd: Peter Fawcett with "Hummingbird Hawkmoth Feeding"
Congratulations to all three.
President's Prattle - Print Panel and Panorama Competition
by David Cottrell 9 April 2019
This evening's programme began with the judging of the Print Panel Competition. We were pleased to see 10 entries this year, after we only had 5 last year, and they were all of a good standard with a wide variety of topics. Judging of this competition is by members, who simply vote for the best panel, the votes being totted up during the coffee break. The winner by a good margin was Graham Thorpe with a splendid panel of photos taken at Tanfield Railway.
After that, our own Peter Maguire judged the (PDI) Panorama Competition. There were 24 entries, only some of which had kept to the requirement for a 3:1 ratio but Peter had graciously judged them all. Lesley Hughes had taken in the photos for him, and randomised them before sending them to him, so that he judged them with no knowledge of their authors – he only identified the winners for his own information half an hour before the meeting started. As there weren't a lot of entries, Peter had time to give quite an extensive critique of each photo: his comments were relevant, constructive and helpful as always.
In the Panorama Competition, there are no "Highly Commended" or "Commended" scores, but Peter did indicate which entries were "near misses". In the end I was a little embarrassed to gain both 2nd and 3rd place with (respectively) photos of Worcester Cathedral interior and the Grand Canyon (North Rim – not the usual part seen in photos) but congratulations go (again!) to Graham Thorpe for first place with "Hadrian's Wall Territory". Very well done, Graham.
President's Prattle - Set Subject Competition
by David Cottrell 2 April 2019
Tonight David Stout came to judge our Portrait and Outings competitions. David has a wealth of photographic experience and qualifications, with particular expertise in travel photography.
The portrait entries were presented as prints and covered a wide range of styles. Inevitably several had been taken during the portrait training sessions over the last two years, but there were lots from other situations as well – and there was a good variation in technique even amongst those from the Club sessions.
Many of the outings entries came from the Club trip to Pickering on a wet day last October, arranged by Alan Harle, and there was also a good number from Mary Naughton's trips too.
David kindly gave us his constructive comments on all the entries, presenting these in a thoughtful manner with a nice touch of humour from time to time.
The winners were as follows:
PORTRAITS:
1st "Emily" by Peter Fawcett
2nd "Muscle Magic" by Janet Maddison
3rd "Daughter and Mum" by Nick Lambert
OUTINGS:
1st "Lady in Red" by David McClure
2nd "Dent Station" by Margaret Daley
3rd "Concentration" by Derek Broadwith
Congratulations to all the winners (and those whose work was commended).
President's Prattle - Member's Night Group Presentations
by David Cottrell 26 March 2019
This was the first Group Presentation night that I've attended at our Club, as I was on holiday at the time of last year's. I knew it would be a fun and entertaining night however, and I wasn't disappointed. Five groups had worked very hard to produce their offerings, and all had taken a different tack which made for a very varied evening.
We started with Maggi's group, who had dome an assignment on castles. They'd been very well organised and had gone out as group on a few occasions, visiting castles of various sorts around the region. From the look of some of the photos they seemed to have stayed out until nightfall, but I suspect some of that was artistic licence! On one occasion they'd found the castle closed but had been lucky to be let in when the owners arrived.
Then came Nick's group who had managed to find all sorts of angles on a large variety of church towers, spires and domes. Some group members had ventured further afield, as they showed several photos from abroad. They'd allowed themselves quite a wide brief: the photos didn't all have to be close-ups, so that many of the photos showed the spire/tower/dome in its context which made it particularly interesting.
My group came next. We'd decided to concentrate on wood in many of its aspects – its life from the embryo, through full-grown trees to its uses and eventually to its destruction and decay. In the time available we felt we could only "scratch the surface" of the topic so our title slides showed a lovely wooden table with a big scratch on it! Some of our photos had been taken specially for the challenge, others had been trawled from our various personal archives, but we'd had great fun meeting several times to discuss and choose them. In spite of having a bad throat Anne McClure bravely and very successfully acted as our presenter and took us through all these aspects of the life of wood.
Janine's group had worked on reflections and had produced some really fabulous photos. Unfortunately owing to work commitments, Janine was unable to attend the presentation, but Ian Allon had produced a magnificent AV showcasing all their work, set to beautiful music.
The session ended with Norman's group, Norman being aided and abetted by Kenny. They'd chosen the topic of "Metro"; their work had almost come to a full-stop when they found that photographing on the Metro is forbidden without special permission. Obtaining that wasn't easy especially as their first request, by letter, was lost but eventually they got this permission and set to work after a (very minimal) safety briefing. Norman showed a super AV of their photos and then Kenny presented on the history of the Metro, taking us right back to the early railways, some propelled by child power!
Altogether a very enjoyable and successful evening – many thanks indeed to everyone involved.
President's Prattle - Print Competition Round 3
by David Cottrell 19 March 2019
Tonight we had the judging of the 3rd and final round of this year's open print competition. The (external) judge allocated to the evening was David Hall; we knew that sadly he is currently unwell but it was only on Sunday that we heard that he wasn't well enough to come and give his comments on the photographs. He had, however, very kindly judged all the prints and he sent his recommendations for commended and winning entries.
Club stalwarts Arjun Nambiar and Peter Maguire boldly stepped in at 48 hours' notice to prepare a magnificent double act, providing insightful and helpful comments on all the entries. Happily, therefore, all entrants were able to hear constructive feedback on their prints. However, they stuck to the recommendations of David Hall when it came to announcing the commended and winning entries: this worked well, and was appropriate as they had both entered prints into the competition.
The standard of entries was excellent and many more would have deserved a commendation than it was possible to give. The winners of the monochrome print competition were:
1st place: "Evening Light, Cawfields" by Fred Lowes
2nd place: "The Tree, the Lake and the Mist" by Mags Atkinson
3rd place: "Angry Sea at Tynemouth" – again by Fred Lowes (a good night for Fred!)
For the colour prints, the winners were:
1st place: "Hoverfly" by David Cottrell (a little embarrassing!)
2nd place: "Tulip Petal Pattern" by Idse Herrema
3rd place: "Reflections of a Dystopian City" by Ian Whillis.
Vice-Presidential Prattle - An engaging evening with...
by Harry McAtominey 12 March 2019
On March 12th the members were treated to "An engaging evening with John Devlin and Mike Berry".
These two photographers have been friends for years, regularly go on shoots together, and share their images with other clubs.
One of the more unusual aspects of the evening was that their styles and types of photography are almost polar opposites.
John tends to shoot landscapes, often with a dreamy, ethereal quality; Mike tends to shoot quirky, colour saturated, street scenes.
After a short AV presentation of their different styles, the evening got underway with a recipe session where members chose different constituents of a curry, and each ingredient linked to a series of images which Mike or John took us through. Thus the evening had a random element and I guess, no two shows would be alike.
Members also participated as Mike and John allowed members to pick cards which had random topics on, which generated a lively discussion at each point.
Obviously the two guys are excellent photographers in their own right, but presented a well structured and thought through evening which the members appreciated.
President's Prattle - Set Subject Competition
by David Cottrell 5 March 2019
This evening we welcomed one of our favourite visiting judges to the Club - Richard Spiers from Morton Photographic Society in Carlisle. Richard has a wealth of experience of judging in local, national and international forums and always manages to provide a thorough, constructive critique of all the images. He has a knack of presenting his comments in a way which allows us to follow his train of thought as he analyses the images, describing the questions which go through his own mind as he looks at each one. This means that we can come to our own decisions as to our answers before he gives his answer (then we can agree with him or not!). In this way his judging provides food for thought for everyone whether they're a novice or an experienced photographer. His presentation is always laced with humour which lightens the atmosphere perfectly.
Our Special Subject this year (chosen this time by our friends in our linked club in Beaufort, South Carolina) was "Simplicity". It was fascinating to see the many different ways in which members had interpreted this theme. I thought the standard was very high, and presumably Richard did too as he was quite generous with "Commended" scores. In the end, the three winners were as follows:
1st Fred Lowes Reed Reflection
2nd Peter Maguire Eponymous
3rd Margaret Daly White Narcissus
Today's meeting had originally been intended to include the judging of our Nature competition as well, but as there were too many entries in total the Nature judging has been deferred to 16th April. Richard Spiers has kindly offered to make a return visit then - I'm already looking forward to it.
President's Prattle - Themes and Concepts
by David Cottrell 26 February 2019
We always know that we'll get an excellent presentation when Carol and Leo Palmer come to speak, and this evening was no exception. Between them they have a wealth of photographic experience, each of them having the ARPS diploma (Leo having several other diplomas too) and each also having served in several major roles in the RPS itself.
Perhaps because of their intimate knowledge of RPS distinctions, their presentation this evening was based on the virtues of "panels" – ie groups of photographs which work together well, generally on a particular theme. They did a "double act" with some fun banter between them. Their presentation was purely print-based, and the photographs they showed (along with the stories underlying them) were superb. Altogether an enjoyable, instructive and thought-provoking meeting – and very timely in view of our forthcoming Print Panel competition (to be held on April 9th) and, of course, our Group Presentation evening on 26th March where members will be presenting large sets of photos on a theme.
During the announcements, Alan Harle reported the outcome of the vote on where we should go for our May coach-trip outing. He'd offered the East Coast (Robin Hood's Bay area) or the Lake District – and the vote had been "15 all"! So the May trip will be to the East Coast and the October one to Cumbria.
Programme update - nature and set subject competitions
by Maggi Shepherd 28 February 2019
We just wanted to confirm that next Tuesday's meeting will only cover our set subject competition results of Simplicity. The Nature competition results will now take place on the session that was devoted to the photowalk on 16 April. The photowalk will then take place after the Presentation Night. We have had to make these changes because we have had so many entries, which is excellent. Many thanks to all those members who submitted images.
Vice-Presidential Prattle - Projected Digital Round 3 Competition
by Harry McAtominey 5 March 2019
On the 19th of February we had the third leg of our open DPI competition.
This was judged most ably by Bill Broadley, of Blyth Camera Club.
Bill had about 55 images to judge and they were extremely varied, all of very high quality.
Bill spent some time on each image with a variety of constructive comments about each one.
His delivery was very sympathetic to the images with good humour throughout.
All told, the members thoroughly enjoyed the wisdom and experience which Bill brought to the judging.
There were many good images but the top three were of superlative quality, each one would probably have won on any other night.
Joan Sheppard came third and second with wonderful wildlife images of a water Buffalo at a water hole during the night, and a kingfisher exploding from the water with a fish.
Peter Maquire won the competition with an image of a musician which exuded emotion, was superbly composed, and was extremely well exposed under tricky conditions.
Well done to Bill and the worthy winners.
President's Prattle - Discovering Vietnam
by David Cottrell 12 Feburary 2019
This evening, Sue Hingley of Whickham Photographic Club came to give us a talk entitled, "Discovering Vietnam". Sue has been a photographer since the age of 7 when she was given a Brownie 127 camera so she has a wealth of experience, including achieving her ARPS with a superb set of monochrome photos of Durham Miners' Gala. Tonight she presented an excellent set of photos taken during a trip she and her husband went on in Vietnam about 3 years ago. Even though she was on an organised tour, rather than travelling independently, she really seemed to have managed to "get under the skin" of the country as many of her photos gave a detailed insight into the life of the local populace. She explained that during several train journeys she had kept her camera up against the train windows, thereby managing to capture shots of real life "as it happens". She had also taken several lovely portraits of local folk who willingly posed for her (sometimes in exchange for a modest tip!).
The saddest aspect of her presentation was the continuing awful effects of the war (locals call it the "American War"), and especially of Agent Orange which not only devastated vegetation but also caused birth defects. Altogether it was a fascinating and educational talk.
President's Prattle - Pecha Kucha
by David Cottrell 5 Feburary 2019
Our "Pecha Kucha" sessions at the club rank amongst my favourite meetings, and tonight's was no exception. 13 of our faithful members put in a great deal of effort to prepare their 6 minute 40 second 20-slide presentations, and they were all brilliant. There was a super variety of topics – entertaining, informative, hilarious or all three (some club members had tears of laughter streaming down their faces during Mark's washing-line presentation), and all the photos were excellent including those taken on mobile phones or through airplane windows. Altogether a superb evening, and one of which the cub can be justifiably proud. Many thanks indeed to all those who took part.
Two hours before the meeting we had a scare, as it looked as if the pub was going to have to cancel our meeting due to a leak in the roof. Happily they were able just to cordon off the affected part of the room with tables and buckets to allow us to go ahead, for which we were very grateful – it would have been such a shame to postpose things when all our presenters were psyched up to giving their talks.
President's Prattle - Print with Confidence
by David Cottrell 29 January 2019
This evening we had another talk about improving our printing, following on from (and complementing) Arjun's teaching last summer and the session on a Sunday in November led by the Fotospeed team. This time it was Colin Hulley who came from Permajet to guide us as to how to avoid the pitfalls which can bedevil our attempts to get our prints to look as close as possible to the images we see on our screens.
Colin took us expertly through the whole process of producing a print, right from setting up our camera properly (capturing our photos in Adobe RGB gamut and saving them in RAW format) through calibrating our monitor properly (including not using it on too bright a setting and keeping the room lighting under control) to producing the print itself. His emphasis on monitor calibration will hopefully stimulate more members to take advantage of the option to borrow the Club's "Spyder" monitor calibration tool.
Whilst he did not come to do a "sales talk", Colin did bring samples of prints produced on Permajet's range of printing papers and was able to offer packs of the paper at a good discount: several members took advantage of this. He explained the rationale for using the correct "ICC Profile" for the paper being used when we produce our prints: generic profiles for the particular type of paper can work well but Permajet offers a free service to users of their papers by which they will generate a specific profile for each type of paper when used in one's own printer setup. For this service we have to download a test page to print with the appropriate settings and then post the printout to their office.
I'm confident that if we follow Colin's advice we'll end up with our prints coming out "right" first time much more often – and therefore waste much less ink and paper!
President's Prattle - Beneath an Eastern Sea
by David Cottrell 22 January 2019
This evening's presentation was a little different from our usual, as it centred on underwater photography. Ian Cartwright came all the way from the Berwick area to entertain and inform us about underwater life in Indonesia, with a presentation entitled, "Beneath an Eastern Sea". His photographs were amazing, especially considering the conditions under which they were taken. He had to cope with his SCUBA equipment (taking care not to stay down too long and get "the bends"), poor visibility owing to the restricted light, particles in the water illuminated by his flash and currents in the water trying to move him away from his chosen viewpoint. All this whilst coping with his camera in a waterproof housing and his flashgun (also in a housing) on an articulating arm attached to his camera casing. Underwater creatures are so different from those to which we're accustomed: their shapes and bright colours and patterns were mesmerising. Ian complemented his photos with lots of fascinating information about the creatures themselves.
It's no wonder that Ian is an expert in this field – he was only the second person to gain his FRPS by means of underwater photos, back in the 1990s.
President's Prattle - Pinhole Photography
by David Cottrell 15 January 2019
I think most of us weren't quite sure how our talented club member Arjun Nambiar was going to fill a whole session on "Pinhole Photography" but I also think most members would be like me: knowing in advance that he would succeed, in the process giving a fun, educational and interesting talk. We weren't disappointed.
Arjun took us very clearly through the principles of pinhole photography and its history before showing us a video on how to construct a pinhole camera at home (this took me back 50 years to my physics lessons at school – and back 15 years to helping one of our sons make one from a shoebox for his physics homework). It was real "Blue Peter" stuff, although it used an empty fizzy drink can rather than a Fairy Liquid bottle!
He then surprised me (and probably several others in the audience) by showing us that pinhole cameras are still available to buy. He had 3 examples with him – all beautifully made, two from wood and one from metal, all of which are available in versions to use with roll film or 35mm film. He described the pros and cons of each of them, which will help any of us who decide to take the plunge. He pointed out, however, how easy it is to convert one of our standard digital cameras, using a body cap with a pinhole in it (you can either make the hole yourself or buy a cap with a hole ready-made).
After this Arjun showed a series of impressive photos he has taken with his pinhole cameras. He pointed out that the focus is inevitably relative soft (and therefore club judges are unlikely to favour the results!) but in fact it's a rather pleasant effect – and there's no edge distortion as you get with lenses (especially wide-angle ones).
He finished off the evening with a Q&A session, the questions showing how interesting our members had found the talk. Altogether an excellent evening.
President's Prattle - Print Competition Round 2
by David Cottrell 8 January 2019
We started the New Year with an excellent judging session of our 2nd Open Print Competition of the season. The judge was Jim Welsh from Blyth Photographic Society and he did a super job of the judging, not only entertaining us with his humour but also giving praise where praise was due and providing very helpful constructive feedback where he felt that the pictures could be improved. He presented this feedback in a way which would be helpful to the individual member but also of generic benefit to everyone as they plan their future photographs. He has a wealth of experience as a photographer and a judge and this showed through clearly in his comments.
The entries were of a very high standard, so the competition was tough: several photographs which received only complimentary comments could not even be given "commended" status as there's a limit as to how many such honours can be given. The entries which were commended and especially those which were placed were absolutely excellent. The colour section was won by David Brown with "Reed Warbler Singing" and the monochrome section by Idse Herrema with "Campion".
At the end of the session Jim had the pleasant task of presenting CPAGB certificates to two of our members – Peter Maguire and Don Smith (see the photos below). The Club is very proud of several of its members, as a number of external awards and diplomas have recently been achieved.
President's Prattle - Christmas Party
by David Cottrell 18 December 2018
Well what can I say? – we had a fabulous, fun Christmas party, and the Club is so grateful to all those who worked hard to make it a success. Ian Woodrow produced his usual excellent quiz to test out our brain power, whilst also organising the buffet and the raffle (aided and abetted in the raffle by Terri who can be very persuasive when selling tickets!). Kenny challenged us with his Beetle Drive and although this became somewhat anarchic we all enjoyed it. Lesley and her team of willing helpers (thanks to them all) made the place look great (sadly Lesley couldn't be there to enjoy the fruits of her efforts owing to the loss of her much-loved dog, but Mary took over from her and did a super job – which included giving Kenny a lift back home when he forgot the Beetle Drive prizes!). Maggi looked after the "Bran Tub" and the charity collection with her usual efficiency: we raised a wonderful £265. Altogether a great way to kick off the last week before Christmas.
President's prattle - Lakeland Perspective
by David Cottrell 11 December 2018
I was delighted to welcome John Gravett to the Club today, to give the Ray Cole Memorial Lecture, on the title "Lakeland Perspective". Over the last 5 years I've been on four of the residential workshops which he runs at "Lakeland Photographic Holidays" based at Braithwaite, and on two 2-week photographic holidays with him in North America, so I knew he'd give a lively, amusing and educational talk – and we certainly weren't disappointed. He presented a series of superb photographs showing the Lake District in all the four seasons (he kept his favourite – winter - to the end). John is a very experienced and enthusiastic photographic teacher and this showed very clearly in his talk as he gave lots of advice as he went along – explaining in detail why he composed his photos in a particular way, as well as giving technical details and advice too.
We were honoured that this was a new talk which he'd just prepared recently: all the photos had been taken in the last year or so. We were the first club to hear it (but I know we won't be the last).
Now to try to put into practice all that I learned…!
President's prattle - Newcomers and knockout competition
by David Cottrell 27 Nov 2018
I was looking forward to this meeting as the Knockout Competition is always good fun, and I also enjoy seeing the photos entered by newcomers to their special competition (they generally put some of us slightly more-seasoned members to shame). I'm pleased to say that I wasn't disappointed on either count.
We're very grateful to Peter Maguire for volunteering to take over as our Internal Competitions Secretary, and he did a splendid (almost perfect!) job of running the knockout competition in spite of only having obtained the relevant software a few days earlier. All the members entered well into the spirit of the competition, voting promptly with their hands, and thanks are due to Kenny for helping me with counting the votes. I really enjoyed seeing the entries, with such a varied range of subjects. Some of the votes were very close (occasionally requiring a recount) but the winner was Arjun Nambiar with "Standing Strong" - a beautiful photo of a lone tree reflected in a lake.
Ron Henry then did us proud with his judging of the Newcomers' Competition. Our thanks are due to Ron who has worked very hard for the club over the last few weeks as he and Joan Hall kindly stood in at short notice as judges for our print competition earlier in the month when the appointed external judge fell ill. His constructive comments on the newcomers' photographs were very insightful and relevant, and I'm sure the entrants would benefit from them. Not all newcomers to the club are newcomers to photography of course (some are very experienced). The standard of the entries was high and congratulations are due to Janet Maddison who won the competition with her super photo entitled "Heart Shadow" – a very clever photo of a wedding ring casting a heart-shaped shadow on the pages of a dictionary open at the word "wedlock".
President's prattle - Photoshop panel
by David Cottrell 20 Nov 2018
We always like to make good use of the talents and experience of our own club members, and tonight was an excellent example of this. Bob Campion led an instruction panel on Photoshop techniques, aided and abetted by Lesley Hughes, Mary Naughton and Arjun Nambiar.
Regardless of how long one has used Photoshop oneself, there is always more to learn. I know myself that I only scratch the surface of its functions and I was certain that I'd learn lots from our erudite panel (although they denied that they are erudite!) – and I was not disappointed. I was interested at the end to hear them saying that they'd all learnt a lot from each other too.
Each of the panel members had a different aspect to teach us about. Bob covered some of the essential basics (thereby making me realise how badly I use those functions – hopefully I'll use them more effectively from now on), then Lesley took us through some of the techniques she uses to produce her masterpieces which always make me jealous when I see them. Arjun continued and developed the theme and Mary finished off the session – unsurprisingly adding a bit of Lightroom instruction too! (I'd no idea that you could produce a "colour-pop" image in Lightroom.)
Our thanks are due to all the panel members for producing such an excellent and informative evening.
President's prattle - Pole to Pole
by David Cottrell 13 Nov 2018
What an amazing presentation we had tonight! Keith Snell, Chairman of Keswick Photographic Society kindly came all the way over from Cumbria to give us a talk entitled "Pole to Pole" and it certainly lived up to the title. He started off with an account of his trip to Antarctica on a Russian "research" vessel with a small group of other travellers; we were a little jealous of his photos but not of the need to navigate stomach-churning rough seas during part of the voyage! His photos included shots of 3 different sorts of penguins which were not only photographically brilliant, but were also so cute that they had us all "Ah"ing.
After a short breather he then described a subsequent trip on the same ship to the Arctic. His photos there were equally breath-taking and included a super shot of a polar bear standing on an ice-floe: it had been taken from a long distance but this hadn't stopped it from winning international accolades.
Whilst covering the photographic side of his travels very well indeed, Keith's talk also covered geography, ecology and biology – not to mention the history of attempts to find a North-west Passage from the Atlantic to the Pacific through the Arctic archipelago. Altogether it was a thoroughly enjoyable and educational evening.
Reminder - upcoming Fotospeed print day
The club would like to remind members about the forthcoming print workshop, to be held at our regular venue The Millstone on Sunday 11th November, from 10:30am to 3:30pm.
Margaret Salisbury (FRPS, MFIAP, FIPF, AWPF, APAGB) will be showing a wide range of her award winning images and holding an assessment session on any prints you wish to bring.
John Herlinger, MD of Fotospeed and The Fine Art Print Room, will share knowledge of printing, mounting and framing, and Fotospeed papers will be avilable for sale at reduced princes during the event.
For more details including how to attend, please click on the flyer below:
President's prattle - B&W Editing in Lightroom
by David Cottrell 30 Oct 2018
This was the final session (for the time being anyway) in our Black-and-White season, and an excellent session it was. Our very own Mary Naughton "took to the stage" and gave us a superb tutorial on using Lightroom and Silverefex Pro to convert our photos to monochrome and enhance them appropriately. Although I've been using Lightroom literally every day for over 4 years I find that whenever I listen to Mary I learn lots of new tricks and realise that I've been missing out on many of its capabilities. The very next day I used some of these new tricks in processing the photo for my photo-a-day project and it received lots of complimentary comments and faves. Thank you Mary!
Mary's teaching was all the more remarkable as her laptop had suddenly gone wrong the previous evening, so that she'd had a very busy time trying to get it fixed (not possible in the time available), borrowing a replacement, and getting the necessary software loaded and working properly. There was no way she wanted to let us down. It was no wonder that she received a rousing round of applause.
President's prattle - My World in Black and White
by David Cottrell 23 Oct 2018
Our black-and-white season continued this evening with another brilliant talk by a guest speaker: this time it was Gerald Chamberlin EFIAP, DPAGB, who is the current Chairman of Morton Photographic Society at Carlisle. His talk was in two sections. He started with a presentation entitled "My World in Black and White", showing some fabulous photos of people and places; he's clearly a wizard with Photoshop as he showed how he "drops people into" his photos against appropriate backgrounds taken elsewhere (it was impossible to see the joins, and it was hard to believe that the photos had been merged in this way).
Gerald's second presentation was on infra-red photography. He recently bought a second-hand Nikon D200 for £50 and had it converted for infra-red photography with a 720nm filter. He finds sunny days are best, and makes extensive use of the "Dehaze" filter in Lightroom during post-production. This leaves a small degree of colour in his photos (unless he decides to do a B&W conversion) which adds to the ambience of the images. Everyone I spoke to afterwards was amazed at the dramatic effects he achieves: I suspect some of our members (probably including me) will be looking to get a camera converted!
When digital photography first came into popular use he was disappointed with the results of black-and-white prints, feeling that analogue film gave better results – but he's now happy with the newer software and papers. He'd used projection during his talks but brought a large selection of his prints for us to look at afterwards.
President's prattle - Of Life and Land
by David Cottrell 16 Oct 2018
What a super evening we had! Lucy Saggers came all the way from Ampleforth to give a talk entitled, "Of Life and Land", based on her new book and recent exhibitions - and she had us enthralled. She told us how she's had a camera since about the age of 8 but only "really got into" photography about 6 years ago, having taken 30 years to follow her ambition of being a documentary photographer. She'd been inspired all those years ago by the work of James Ravilious in 1970s and 80s North Devon, and has followed his example of documenting the simple beauty inherent in the unending rhythms of our daily lives. So the photographs she showed depicted all sorts of aspects of everyday life in her rural, North Yorkshire village. Currently she works exclusively in black-and-white, to concentrate on composition, texture and light - and her photos certainly showed that she succeeds admirably in that aim. She brought her photographs even more to life by telling us the fascinating background to each of them and to the characters depicted therein.
Those of us who find it difficult to approach people to ask if we can photograph them can take heart from the fact that she finds this difficult too. One of the problems is that once someone knows they're being photographed, they often alter what they're doing or how they do it – and that's not what we want. Lucy succeeds by, where necessary, getting to know her subjects and chatting to them so that they feel at ease and her camera becomes less intrusive. To aid that, she avoids use of a tripod or flash, and uses a small prime lens which makes her camera less obvious (and also provides a wider maximum aperture than most zoom lenses, allowing more effective use of available light so that flash isn't necessary).
She'd brought several copies of her book which sold rapidly – good evidence of how much we appreciated her photographs.
President's prattle - DPI Round One
by David Cottrell 9 Oct 2018
On the programme tonight was the judging of this season's first DPI competition, and what a super night it was! This was the first judging session since we reduced the number of photos each member can enter into the main competitions from three to two – so the judge had a more reasonable 59 photographs to deal with instead of around 100 as last year. I felt that the standard of the entries was very high indeed (I can say that as I'd been away when entries were due in, so hadn't entered any myself!). We had the honour of a highly experienced judge in Malcolm Kus of Alnwick Camera Club – he's been a judge for almost 30 years, in local, national and international competitions, so he certainly knows his stuff. In his preamble he pointed out that it's not necessary for a judge to find fault in a photograph in order not to give it an honour, and that the choice of commended and winning photos is a very personal matter. He did, however, give useful constructive criticism where he felt it was appropriate. His easy, relaxed and humorous style was widely appreciated by our members so we all felt entertained as well as educated by the end of the session.
Several photos received well-deserved commendations. Joan Sheppard did extremely well, winning 3rd place with her superb monochrome photo entitled "Giraffe Drinking at Night" and 1st place with a stunning photo "Kingfisher with Fish": both these photos included really beautiful reflections. Our Immediate Past President Peter Maguire did a sterling job as stand-in competition secretary and also won 2nd place with "The Art of the Subway", a very colourful picture taken on the Stockholm underground.
President's prattle - on Tea and Elephants in Sri Lanka
by David Cottrell 2 Oct 2018
Our programme secretary Kenny Hannard can be very persuasive. He had asked our Vice-President Harry McAtominey to prepare a presentation to hold in reserve in case a speaker became unavailable at the last minute and Harry had agreed – only to find that Kenny had actually allocated him tonight's slot to give that talk anyway!
This was to the Club's advantage as Harry gave a fascinating presentation entitled "Tea and Elephants in Sri Lanka". Michael Palin and Simon Reeve had better watch out as Harry's "travelogue" was well up to BBC standard – and he didn't have a film crew in tow (at least I assume he didn't!). He cleverly used a map of Sri Lanka to guide us round his travels and showed us some brilliant photos which certainly had me deciding to put Sri Lanka on my bucket list. He covered tea and elephants so his title was appropriate but his talk was much more far-reaching than that.
Harry explained that in his opinion, Sri Lanka is "India light" – so anyone interested in visiting India but feeling that it may be a little daunting would find Sri Lanka well within their comfort zone.
President's prattle
by David Cottrell 25 Sept 2018
Having missed two meetings whilst being away taking photos in the Canadian Rockies, I came back to hear that I'd missed two fantastic talks at the Club; too bad, one can't be in two places at once!
Anyway I was delighted to chair this meeting at which several members presented their own images. The meeting title had originally been "Images of Summer" but owing to an apparent shortage of such images it was opened to images of anything! The variety was amazing, so even though it proved to be quite a long meeting the time passed really quickly. Ron Henry kicked off with a fabulous presentation and Kenny Hannard finished the session in his own inimitable humorous style!
Grateful thanks are due to all those members who presented their photos – I know how long it can take to select and organise even a short presentation. They were a credit to the Club.
Vice-Presidential prattle – British & European Wildlife
by Harry McAtominey 21 Sept 2018
On Tuesday we have an excellent talk from Michael Watson, a member of Durham Camera Club. As I had researched an entirely different Michael Watson, it was good to have a chat at first and discover this, so I wasn't unduly embarrassed. In chatting to Michael he said his first love was motor sport and his idol was Valentino Rossi. A couple of years ago he had managed to get what he thought was the definitive image of Valentino and he had then turned his thoughts to wildlife. (Have a look at the Rossi shot on Durham Photographic Society website, it's fabulous. His face is extremely clear, yet the water coming off the tyres is also pin sharp.)
The talk commenced and it was immediately apparent that Michael is a fine photographer and has covered a wide variety of wildlife, both in the UK and abroad. He is obviously a master of technical aspects such as exposure and ISO but he also has a marvellous eye for composition. Some back lit shots were stunning and the bokeh on others was also excellent. Fairly common wildlife such as birds and deer were there in abundance but Michael also had images of wild European brown bear, wolves, elk, etc.. His description of being in the "suicide hide" while a brown bear explored outside was scary.
Michael is a full time employee and as the night unfolded I wondered how he found the time to take so many wonderful images. This became clear as he explained he was often up at the crack of dawn, out all day and into the early evening, and even staying out all night in hides to get the images he had envisaged. He tends to travel alone now, wild camping if necessary.
The members obviously appreciated the talk. We certainly booked the right Michael Watson!
Gosforth Camera Club Data Protection Policy
by Webmaster 18 Sept 2018
In accordance with the European Union General Data Protection Regulation (GDPR), the committee has prepared a data protection document describing how the club uses your data, the safeguards in handling the data and your control over that data. The data protection document is available
HERE
as a PDF and will shortly be integrated into the club's website.
Vice-Presidential prattle – Droning On
by Harry McAtominey 13 Sept 2018
Our first session excluding President's night got the club underway on what looks to be an exciting year of presentations and activities. The first speaker was Ian Britton, a local enthusiast of both video and stills photography, and latterly, an enthusiastic convert to drone photography. Ian brought his drone along and while some members were prepared to duck, thinking he would be flying it "in house", this was just to demonstrate the type of equipment Ian used, and how it has to be calibrated before each flight.
First Ian went through the regulations drone pilots need to be aware of, especially qualified tuition and also the regulations which prevent you flying drones in areas which are either permanently or temporarily excluded. Ian also mentioned the various apps which detail this, and also the apps which are useful to help plan flights.
Then we were into several videos and stills taken by Ian over the last two years or so. While we are all aware of how beautiful our surrounding countryside is, a birds eye view always gives a different and more engaging perspective.
Ian demonstrated how the drone can hover for stills images and then move in and out to give a zoom effect. Some of the dawn and dusk images were stunning and Ian's commentary was very useful in showing how got the images as well as where they were taken from.
Given that Gosforth Camera Club has an enthusiastic and skilled set of bird photographers, I was aware that several were contemplating buying a drone and getting images of birds in flight, but Ian cautioned that this was very difficult to pull off, and risked losing your drone if a bird attacked, which one had done to him recently!
Ian's talk was followed by probably the longest and most detailed set of questions a presenter had endured from our members. All in all, a thrilling and informative start to the year, given by a knowledgeable and entertaining presenter.
Ex-Presidential prattle – President's Night 2018
by Peter Maguire 14 Sept 2018
The new winter season started well on 4th September, with David Cottrell our new president giving his inaugural President's Evening talk. David kept us guessing throughout his presentation, beginning with a brief look at photography through the ages, starting with Joseph Nicéphore Niépce in the 19th century before moving on to some photographic historical firsts compared with his own firsts. This witty collection of images contained some tenuous links – the first photograph taken from the moon being compared with David's image of Neil Armstrong stepping onto the surface (photographed in a 1960s era television) being a particular favourite.
The history lesson then moved on to his cameras used over the past 50 years and how he improved significantly in the past 5-6 years which he ascribed to three things: attending photographic courses, daily postings on Bliphoto and in particular joining Gosforth Camera Club. The presentation was a most welcome start to the new season, and displayed some spectacular images, which will cause some concern to his competitors in this year's competitions.
Presidential prattle – April Round-up/End of Term Report
Peter Maguire 23 May 2018
April began with the results of the Portraits and Outings competitions, judged by Will Ireland on Tuesday 3rd April. As this was just after the Easter weekend and I did not arrive until the end of the judging, David Cottrell deputised for me and has already reported on the results.
The following meeting was another results night – for the panorama and print panel competitions. As usual, the print panel was judged first by the members and Margaret Daley's group of 'Butterflies' was the winner by a clear margin. Entries for the print panel competition have dwindled slightly over the years, and the committee will be looking at how we can encourage panel entries, a very different discipline from our usual competitions, for the coming season.
The panorama competition is usually judged internally also, and that pleasant task fell to me this year to assess the good range of entries. As one would expect most entries were of 'traditional' style landscapes, with a scattering of more varied subjects, and for me the winning entry was an expansive landscape 'North Pennine Summer' by Norman Cooper which depicted a view from the moors into one of the Durham dales, with purple heather and fluffy clouds above. Very much a traditional image, but well executed.
As the evenings were getting brighter, the 17th April meeting was a photowalk around the quayside with superb weather laid on by Mary – the slightly hazy overcast cleared as the sun went down and this gave great opportunities for shots taken in the 'blue hour'. Although how many of the thirty or so members who started the evening were still taking pictures that late is open to conjecture. There should be plenty of variety amongst the entries for next year's outings competition as several more trips are planned over the coming months.
The final act of my term as President was the AGM on 24th April which was well attended for what may be perceived as a necessary, but less than exciting part of the club season. With no overly contentious issues to discuss the evening passed fairly swiftly before proceeding on to the important part – coffee and biscuits before we retired to the bar downstairs to continue our conversations. The only item of note was that I completed my two-year term as President and was succeeded in this post by David Cottrell. It has been a most enjoyable two years and I would like to thank the club members for putting up with me at the front of the room for so long, and the committee for their support.
Oh yes, one final duty was at the meeting on the 1st of May – presentation night and buffet. It was good to see a wide variety of club members, both new and old, receiving recognition of their photographic efforts over the past year. There has been a significant rise in standards in the last six or seven years that I have been a member and the fact that everyone's photography has been improving reflects the outgoing nature of the club and willingness to share experiences. We have included some images of various members receiving their awards – taken by David Cottrell on the night.
Vice-President's Prattle
David Cottrell 24 April 2018
I had the pleasant task of chairing the meeting on 3rd April in Peter Maguire's absence. Will Ireland had kindly come along as judge of our Portraits and Outings Competition. He did a splendid job of analysing the entries, giving very useful constructive criticism which I certainly found helpful in regard to my own entries!
Allan Beeton had a very good night, coming first in the Outings Competition with a splendid photo entitled "Looking Up (at the Sage)", and coming second in the Portrait Competition with "A Man in a Hat" (featuring our very own Arjun Nambiar). Other winners were Margaret Daley (2nd in Outings, with "Underneath the Arches"), Graham Thorpe (3rd in Outings, with "Bamburgh in a Different Light"), and Arjun Nambiar himself (3rd in Portraits, with "Bold and Beautiful"). Meanwhile Barry Skipper did himself proud with a fabulously gritty mono photo of an old man ("Life Experience") which took first place in the Portrait Competition. Congratulations to all these worthy winners – and to all those who took part as the standard of entries was very high. This was, of course, due in no small part to the hard work of Joan Hall & Ron Henry in running our portrait training sessions last summer.
Presidential prattle - March Round-up
Peter Maguire 12 April 2018
For the first meeting of the month on 6th March we welcomed back Richard Spiers to judge our Nature and Set Subject competitions, a challenge that he seems to relish. Richard's assessments are always appreciated by the audience and a friendly exchange of comments flows through the evening. The nature competition is always fiercely contested as there are some extremely good nature photographers within the club and it was therefore good to see that this year's winner was not one of the regulars. Graham Thorpe's image of two 'African Penguins Paddling' seemingly sharing a touching contact of flippers had a lovely anthropomorphic feel to it and was awarded first place, adding a new name to the trophy.
This year's set subject was 'Water' and once again the subject provided a creative springboard for members' imaginations and a range of approaches were evident, from artistic landscapes to staged water droplets. Much to my surprise, the winning image was my own 'British Summer Time' focussing on the raindrops on a car windscreen with a dimly seen caravan and car just visible in the rain beyond.
The following week we had a successful improvised session due to a programme change. Following some initial contacts between our club and the Photography Club of Beaufort, South Carolina when two of their members were given a whistle-stop tour of Northumberland in a day by some of our members during a cruise stopover, we have worked to forge a link between us. They adopted our set subject of 'Water' for one of their competitions and sent us their top 15 images for us to use in a club judging session. For the meeting on the 13th, these were printed out and circulated amongst members who were allocated to small groups to provide comments/critiques on the prints which were then shared at the end of the meeting. These comments were also collated and passed on to the Beaufort club for their information. Before sharing the comments amongst members, the images were also projected and voted on to produce our favourites amongst their images. This provided a perfect evening for those 'armchair judges' amongst the members to hone their critical skill and was a great success.
The final 'big' competition of the year was the third round of the monochrome and colour print competitions which were judged by David Hall, who confessed at the beginning of his assessments that he is still a darkroom-only worker. He obviously relishes both the images and the tactile feel of the various papers available, and this is the first time that I have seen a judge sniffing some of the prints to see if there was a trace of darkroom chemical about them – high praise indeed if they gave that impression. Printing of images is one area in which the club has really improved over the past few years, and the competition was again fierce; Peter Fawcett's 'The Sergeant Major' won a strong mono competition, whilst new member Janet Maddison's 'Kestrel' headed the honours in the colour print section. Once again, it is satisfying to see that new members are doing well in competitions and are being encouraged by other club members.
The final meeting of March was the challenge evening for the men of the club, and this has already been reported by our secretary – it was her challenge after all!
Maggi's Challenge Night
Maggi Shepherd 31 March 2018
Wow! What a triumph! The challenge night was obviously the result of a great deal of hard work from the presenters. The women were made to feel special right from the start, with our seats reserved at the front so that we could get the best view. Kenny started off in his usual inimitable style with a range of images put together in a quirky AV. Then we had a medley of different presentations ranging from an intergalactic story starring some of our hunky men from David Cottrell and a wry look at what it takes to go on a photoshoot with Joan in the rain, from Harry's point of view. Peter Fawcett gave us some really interesting explanations of how photos of birds can help in tracking their flights across the northern hemisphere and Peter Maguire showed us how our brilliant bird photographers can also take other high quality images. Nick treated us to a collection of humorous road signs from around the world and we saw some great out-takes from our lighting course last year. Joan and Lesley easily won the quiz where we had to match images of some of men as sweet little children and funky teenagers to what these handsome men look like today. We finished off with a brilliant spoof of Masterchef, produced by Ron and starring Harry and David Cottrell as the judges Gregg Wallace and Marcus Waring and with Kenny, Mark and Michael as the contestants. Women were then served with yummy brownies and cups of coffee from the stars of the spoof. All the efforts of the men were really appreciated by the women and it made from an excellent night. Many thanks to all those men who made it possible.
Presidential prattle - February Round-up
Peter Maguire 6 March 2018
Another varied month for the club, which started on 6th February with a talk from one of our own members, Idse Herrema, showing the photographic results of his trip to the Galapagos Islands. I'm sure that we all thought that we knew the area from many David Attenborough films, but Idse was able to show us aspects of the islands and their wildlife that were fresh and particularly interesting as they represented a personal view distilled from several thousand images taken during the two weeks that he spent there. His images ranged from wildlife to landscapes, and included many underwater images taken whilst snorkelling – something that were a first for the club members.
The following week saw more club members at work, this time showcasing the results of group projects which had been assigned at the end of last season. The groups were formed of members with mixed experience levels and each group aimed to present a short 10/15-minute presentation of the results of their work on diverse topics such as 'Fresh Starts/New Beginnings', 'Threes' and 'On Top of the World'. It was interesting to see how each group had approached their subject and the degree to which they had worked collaboratively throughout the year or plundered their picture files at the last minute! Each presentation was very different, and the whole evening seemed to be successful and great fun.
20th of February saw our third PDI competition results, and we were fortunate that Peter Yearnshire was able to step in as a late replacement judge to give his comments on the entries. Once again, we presented a difficult judging challenge for him with around one hundred entries, but each image was given careful thought by Peter and there was even some interesting audience interaction when he asked if the photographer was present so that he could understand the thinking behind their images. The winning image was from Allan Beeton with his portrait entitled 'A Yorkshire Man' (the man in question was in the audience!)
Finally for February, the 27th saw the second (print) round of the annual four-way competition held between ourselves, Cramlington, Gateshead and Morpeth clubs which was judged by Jane Black, who struggled though the treacherous snow conditions to join us. I found Jane's comments to be particularly insightful and there were a wide range of prints were on display, with three images being awarded 30 marks – a sign of the excellent quality. Gosforth had been leading from the first round, and with consistent marks for our print entries, never relinquished this leading position. Considering the weather conditions outside a good number of members turned out for the evening, with only Gateshead not able to be represented.
Presidential prattle - January Round-up
Peter Maguire 6 February 2018
I'm now seriously behind with the news, but as I've been compiling two presentations for the club this month, I'll plead pressure of work.
Our first meeting in January saw Lionel Bryan presenting his comments on our 2nd prints competition of the season, and with a large entry in both mono and colour classes, Lionel had a mammoth task. It was evident however, from his comments on the images that he had put a lot of careful thought into the task and this was greatly appreciated by the members. Once again, the standards were very high, particularly in the mono section, and the eventual winners were Arjun Nambiar and Don Smith in the mono and colour sections respectively. Arjun's 'Phototropism, Cheviot Hills' was a very artistic interpretation of a lone tree, whilst Don's 'Clifftop Puffin' was a fine image of that iconic Northumbrian bird with a beak full of sand eels.
Harry has already reported on the subsequent Macro talk, and this was followed on the 23rd by our Pecha Kucha evening. As usual, there was the expected difficulty in fitting in all of one's comments into the '20 pictures 20 seconds each' format on a couple of occasions, which is part of the fun. (I did think that we were getting better at this last year). However, it made for a very enjoyable evening with very individual styles of presentation, and thanks are due to Paul, Harry, Tim, Nick, Bob, Anne, Cameron and Kenny for a varied range of talks on a wide range of subjects.
Cameron was again in action the following week with a talk based around railway images, covering a range of subjects from the trains themselves to railway architecture and travellers, mostly taken around the northeast. Many of Cameron's pictures were from scanned slides and some were obviously taken some time ago (he obviously does not like the aesthetic effect of the electrification of the east coast mainline!), and they aroused great interest from a historical perspective. It was good to see the work of the of the few club members who regularly works with slide film, something which is rarely seen these days.
Cameron's talk was preceded by a brief presentation by David Brown and myself covering aspects of applying for PAGB, RPS and FIAP distinctions applications. This has not featured highly amongst club members of late, and I would remind members that David and I are very happy to assist with the process if it seems too daunting.
Past President's prattle
Harry McAtominey 19 January 2018
Macro photography was the subject of this week's talk and it was presented by the double act of Peter Maguire and David Cottrell. This was an extremely well put together and presented show, especially as the two of them didn't meet to plan it, but just kept using Dropbox to exchange images, ideas and script. Isn't technology wonderful?
The show itself was full of interesting content. Obviously it presented the sort of equipment a dedicated macro photographer would tend to use, but the two of them also showed how smart phones, old microscopes and very cheap lighting set ups could produce some fascinating images. The two presenters also generated lots of comment and ideas how this could be taken forward. Obviously flowers and insects were centre stage in a lot of the images, and David's house in particular appears to be a deadly place for flying insects.
The evening concluded with a short video featuring Levon Biss, a photographer who specialises in sports and macro. Amazingly some of his insect images are actually 8000 images stitched together to give phenomenal detail and complexity. Levon's web site is
here
Presidential prattle
Peter Maguire 14 December 2017
Just two events for me to report on this time – I know that there have been three meetings, but I missed the results night for the second PDI competition with the 'Still life' theme so we'll start with the Knockout and Newcomers competitions on 28th November.
The knockout competition is always great fun – two images are projected side by side and members vote on their favourite to proceed into the next round. There are generally several recounts during the evening (it's not easy seeing raised arms in a darkened room!), and the inevitable groans when two excellent images are pitted against one another in the early rounds by the software which randomises the pairs. Eventually a winner emerges, and this year modesty does not prevent me from confirming that it was my image of a jellyfish taken in Monterey aquarium that prevailed.
The newcomers' competition is only open to members who have joined the club within the past two years and it is encouraging to note that there have been many new faces in the club. Even more encouraging is that the standards were extremely high and our two assessors, Ron Henry and Ian Winship, had a difficult task. They were however able to provide helpful critiques which were encouraging whilst at the same time pointing to the potential for further improvement, before announcing the overall winning image: a lovely sunset scene taken in South Wales by Arjun Nambiar.
This week we were all able to relax as no judging was involved and we were able to enjoy an excellent talk on 'Sports Photography' by George Ledger. George turned his hobby into a second career, and has been extremely successful in the field of sports photography for many years. We were treated to a run through of various sports from football (inevitable in the North East), cricket, rowing and others before finishing with what is evidently his passion – rugby. It goes without saying that the images were universally excellent, and was particularly pleasing to not just see the classical sports images that grace the back pages of many newspapers, but the whole range of work involved from grass-roots football, to team portraits, promotional photography for sports clubs and portraiture of sports men and women. A fascinating insight into the world of the professional sports photographer delivered with humour and a gentle, anecdotal style that was well received by the members.
Vice-President's Prattle
David Cottrell 11 December 2017
I stood in for our President as Peter was away judging photos himself at a nearby club.
The meeting was the judging session of our PDI #2 competition. This competition was a novelty to us, as it was the first time this particular competition had been given a theme: the Committee had suggested this as an experiment to encourage members to try something which they may not often attempt. The theme of "Still Life" had been chosen – we'd been a little apprehensive in case this put members off entering but in the end we had about 70 entries altogether, many of a very high standard.
The judge was Jane Black, a very experienced judge already known to many members. It turned out that a Still Life competition was rather a novelty to her too, from the judge's viewpoint. She told us that this theme has only recently become part of the international salons so we're keeping up with the Jones's! We were pleased to hear that she'd enjoyed looking at the entries. She coped very well with the large number of photos we'd given her to judge, giving helpful and constructive comments on each one and yet still finishing her comments in about 80 minutes.
Congratulations to Anne Stoddart who took first prize with her beautiful photo of "Tulip Vase", and to Neil Hudspith who took second and third places with his very cleverly arranged "A Double Classic" (2nd) and "Colour Ring" (3rd). Well done too to the Highly Commended and Commended entrants.
Presidential prattle
Peter Maguire 23 November 2017
November is flying by and it will soon be Christmas: here's what happened so far.
We started the month with the first of our print competitions for the year and Alan McCormick from Hexham was the judge for the mono and colour competitions. Having made the judging process a little easier by abolishing our previous marking system, we then made it difficult for Alan by giving him well over 100 entries to assess in the two competitions. He made light of a difficult job and dispensed some very useful comments which I found most helpful. Whilst the standard of the print entries was very high, several members still have room for improvement in presentation, and this is something that the committee are looking to address in a future training session. Congratulations to Fred Lowes and Don Smith, who won the mono and colour sections respectively; their entries can be seen on the gallery section of the website.
Due to a scheduling mishap, the following week saw a hastily arranged meeting based around the images from the 2017 Northern Counties International Salon which were provided on a disc by NCPF. It was decided to present a limited range of images with comments and assessment by a small number of members. This proved to be a very successful format, and great thanks are due to David Brown, Arjun Nambiar, David Cottrell and Don Smith for their personal take on some breath-taking images from the salon. This made for a very successful meeting and is something that we may consider doing again at future years, albeit with a little more planning!
This week saw Gosforth hosting the first, PDI, section of our annual 4-way competition against Cramlington, Gateshead and Morpeth clubs. Our judge for the evening was Malcolm Kus from Alnwick who again provided useful comments on the images combined with a gentle sense of humour which was greatly appreciated by the audience which include a good sprinkling of guest members from the competing clubs. On the night, Gosforth managed to get the highest points total helped by two images scoring 30 points, but this is only the first round, and battle will re-commence in February for the print round.
The meeting concluded with an excellent buffet from the Millstone kitchen which had largely disappeared before I got there so must have been good!
Presidential prattle
Peter Maguire 5 November 2017
After a wonderful and varied wildlife presentation on the 17th October, we were treated to another wildlife tour de force the following week from Param Sandhu who gave us a presentation purely focussed on one animal – the tiger. I was a little worried that a scheduling arrangement that placed two wildlife presentations on consecutive weeks might be a little too much for the club, but everyone present on the evening was delighted with the subject.
Param is a locally based photographer who returns several times a year to India specifically to photograph tigers in the wild at a range of reserves around the country. This deep understanding of his subject was reflected in his commentary which highlighted behaviour, interaction with the local population who must live in close proximity to these major predators and a knowledge of individual animals and their life stories which is rarely encountered in photographic talks. This greatly enhanced his presentation which was coupled with some really excellent photography, about which he was unduly modest, and a lively sense of humour which punctuated his remarks and made for a splendid presentation to a highly appreciative audience.
Before the next meeting came around, David Brown and I travelled to the PAGB Interclub Print Competition in Blackburn where Gosforth CC had been chosen to represent the NCPF as a consequence of finishing second in the Northern Counties print competition. This was our first time at this event where 36 of the top clubs from the UK competed against one another over two rounds. After the first round we were joint second-last, and in the subsequent round, after trying to second-guess the judges' preferences, we slumped to last place overall. So it was a very unsuccessful trip, but the competition was very good, and it was an interesting learning experience with the eventual winners being Cambridge Camera Club.
One bright note from the competition was that one of our images, 'Loch Etive' by Lesley Hughes, which was our highest scoring entry (13) from the first round and the only entry carried forward into the second round scored 15 when judged there. Congratulations to Lesley!
Finally, this week we had our Audio-visual Evening, superbly organised as usual by Ron Henry with the assistance of Ron Henderson. 'The Two Ronnies' again provided some excellent audio-visual presentations ranging from a sequence of images taken on a walk across the Tyne Bridge and another of autumn scenes set to a single piece of music, to more extensive productions with commentary, sound effects and complementary music portraying a trip to Cuba, and also the day earlier in the year when four club members entertained two visiting photographers from the Beaufort Photographic Club of South Carolina. This will hopefully be part of a fruitful exchange of ideas and images with the club, and Russ and Sandy Dimke were treated to a whistle stop tour of Northumberland in the eight or so hours that their cruise ship was berthed at North Shields.
The evening was billed as 'Two Ronnies and Friends', and we also had sequences from Lesley Hughes and Ian Allon; Ian's presentation was of drone photography of Washington State set to music and marked a new departure for the club. A lot of work goes into these audio-visual presentations, and it is to be hoped that other members will look to branch out into this area in coming years.
Presidential prattle
Peter Maguire 19 October 2017
Our first club competition was held on 10th October, with Dave Illingworth of Morpeth CC judging the first round of our PDI competition. We gave him a difficult task with over 90 entries, but made it somewhat easier for him with our new, simplified scoring system. Dave completed his task with his usual good humour and comments, and even bravely joined us in the bar afterwards after his two-hour marathon. Congratulations to Mags Atkinson whose winning landscape image was her first, first place.
Earlier this week the meeting was a talk presented by local wildlife photographers Steve and Ann Toon entitled 'Kielder to Kalahari'. Steve and Ann are former journalists turned professional wildlife photographers with a passion for Southern Africa where they seem to have spent every spare moment over many years. The quality of the images which were mostly taken over the past two years was superb, and ranged from 'conventional', albeit technically stunning, wildlife pictures of both regular safari species and many less well-known animals, to conservation reportage and wonderful artistic interpretations using backlighting and slow shutter speeds. In addition to this they presented the talk as a double act with perceptive and informative commentaries complementing one another in a seamless fashion, and the whole evening was hugely appreciated by members – even the non-wildlife photographers in the club!
Steve and Ann also run both photo-trips to southern African destinations and workshops in this country: it will not surprise me to see images from our members taken at these events in future.
Presidential prattle
Peter Maguire 7 October 2017
Three meetings to report on this time. Firstly on 19th September ex-president Harry McAtominey, at short notice due to a programme mix-up, presented his images from a recent trip to Namibia. An extended and extensive independently-organised trip, the excellent images of wildlife (not something that we normally associate with Harry), landscapes and the range of high quality accommodation they enjoyed left many members with a new venue on their 'must visit' list. All of this was presented in Harry's relaxed and humorous style, which made for a very pleasant evening.
The following week saw a range of members presenting their 'Images of Summer' on 26th September. This evening has become a regular feature in our programme and allows members who would not wish to present a talk for the whole evening to exhibit some of their work. The organisation of this meeting apparently required very little arm-twisting, and is was good to see a range of different faces volunteering to present short glimpses of their recent photographic activity. We enjoyed presentations from both members of long standing to newer members, including one in her third week at the club, presenting images on a range of subjects. Many thanks to Paul, Gillian, Anne, Tim, Anne, Don, Cameron and Kenny for their contributions to a most enjoyable evening, and my apologies to Gillian again for the problems that I had with the timing of her images.
Finally, this week another of our members, Ian Allon, presented his talk 'The Art of Long Exposure'. Ian has developed a passion for long exposure photography having decided that time lapse photography was taking up too much time, and has posted many excellent images on Flickr. His talk was both instructional – providing background theory and technique - whilst at the same time inspirational in showing what can be done with long exposures. His final section showing some of his excellent images (and some less successful ones) was enhanced by providing a critique of each, and the lessons learnt which allowed for his improving results over the past few years. Another great evening and one of the best presentations on a photographic subject that I have seen for some time.
Presidential prattle
Peter Maguire 15 September 2017
The first 'proper' meeting of the new season saw our own Bob Campion giving an overview of Photoshop and some tips/tricks to using the programme. It is always challenging to make a subject like this accessible to all abilities within the club, but Bob seems to pull it off with ease.
Hopefully the new members to the club, of which there are several, found the evening as interesting and stimulating as I did myself. Bob's introduction to the layout of the complex Photoshop interface would have given them a good grounding in the programme whilst at the same time there were many tips which invoked a "that's a good idea" response from people like myself who have been using the programme for ** years.
(** represents a number, not a small one)
Guest prattle
Harry McAtominey 11 September 2017
Well, the 2017/18 season got off to a great start with President Peter Maguire welcoming everyone, and challenging us to find the one (ONE only) spelling mistake in the printed programme for the new year. I feared this might distract everyone from the talk to come but this did not happen.
Peter commenced by explaining that his wife was forced (?) to attend several academic conferences, almost annually, typically in worldwide locations that others can only dream of. Peter, being an adventurous chap, tended to take some leave, book flights with her, and then go off and do his own thing while she was at work. Thus both of them could be said to have had a hard day at the office, but I'd only believe one of them!
Peter's theme was how to take travel photographs, in wonderful locations, but avoid taking postcard type images. Thus we were taken on a journey through, (if I've got it right,) Finland, Seattle, Liverpool, Cape Town, Dubrovnik, Boston, San Francisco and Lithuania. It was very interesting to see locations that we have all seen on TV, typically in holiday programmes but also in Game of Thrones, The Wire etc, and see how Peter had taken the obvious images but also had taken images with his own particular slant on them. Thus in Seattle we didn't see the original Starbucks, but we did see very interesting views of the new library, the Space Needle, Pike Place market etc etc. Boston didn't dwell upon the architecture or history, but did have some excellent images of the subway and a most ferocious storm.
With eight locations to cover, Peter managed to pack an awful lot in. I didn't count the images but I guess there were close to 200, but nevertheless, they didn't feel crammed in or overdone.
All in all an excellent start to the new year.
Presidential prattle– A new season begins
Peter Maguire 2 September 2017
Well, that summer was a bit of a non-event, but hopefully members will have been busy making exciting new images for the current season. We have a stimulating programme lined up for this year, so once we get past President's evening this coming Tuesday, there's a lot to look forward to!
Organised activities have proceeded over the summer break, with Mary leading a trip to Hadrian's Wall on Bank Holiday Sunday, but most importantly there has been another of our training programmes over the summer. Joan, Ron, Ian and Morgan organised an excellent introduction to portrait lighting using the club's new lighting kit (and some of their own kit to allow two setups to function at the same time). There was a good attendance by a regular group over the structured twelve week course which culminated in a shoot using two professional models, Emily and Kayleigh, who were very patient with all the inexperienced portrait photographers. Particular thanks must go to Joan, who put in a lot of hard work in planning both the outline of the course, and the models/costumes/makeup.
Hopefully the confidence that a large group of the members now have using the lighting kit will bear fruit with regular use of the kit which can be hired out by members for a nominal sum.
Day out with the Dimke's
Ron Henry 6 July 2017
Towards the end of last season, Gosforth Camera Club received a request from a party of American photographers who, nearing the end of a Norwegian cruise, were docking in the Tyne for one day in July. The group asked to be guided to photographic hot-spots in Northumberland rather than take a bus tour which would offer little opportunity for photography.
The club quickly agreed and after the ideas had been batted around the committee for a while, Paul, our Competition Secretary, agreed to organise the outing. He pulled together four volunteers and, because the visitors had to be back on board their ship by sixteen hundred hours or it would have sailed without them, decided that a back-up vehicle should be involved.
We were lucky that Kenny knows the Alnwick and Bamburgh area very well. He put a lot of work into devising a route with a timed schedule which meant that we could fit a huge amount into the seven hours the group had available.
As the day of the trip drew closer we discovered that the party of photographers had dwindled to only two - Russ and Sandy Dimke, husband and wife photographers from the Town of Beaufort in South Carolina. Both are members of the Photography Club of Beaufort while Sandy is a member of the Photographic Society of America.
The Gosforth Guides, Paul, Kenny, David and Ron were parked alongside the Holland America Line's Zuiderdam as the first of the 2,000 passengers disembarked to join the plethora of coaches waiting to scatter them around the area. Kenny and David held up the welcome sign and were immediately spotted by Russ and Sandy and after a short introduction and welcome, our two cars set off for Alnwick.
The weather had been awful for days leading up to the trip but Sunday 2nd July was glorious and this early in the morning the traffic was light. We visited Alnwick and Bamburgh before parking in Seahouses and treating our guests to a typical Geordie feast of fish and chips out of the paper while watching the coming and going of Seahouses harbour.
Ever watchful of the clock, we made our way down the coast stopping off at photographic opportunities like Warkworth and finally of course, Saint Mary's Lighthouse. By the time we left St Mary's the lovely weather had attracted the Sunday drivers and the last lap of the trip was nose-to-tail traffic through Tynemouth and North Shields but from the remarkable timetable drawn up by Kenny, we were only three minutes out of schedule when we finally reached the dock with just time to exchange gifts and bid farewell to our American guests.
We hope our visitors enjoyed their day and took some interesting pictures. We certainly enjoyed their company and learned from the conversations. The day was impeccably planned by Paul and the route was devised and timed to perfection by Kenny who seems to know everyone north of Morpeth. David has taken lots of pictures which we intend to compile into a presentation to deliver to the club sometime during next season.
Presidential prattle/End of term report
Peter Maguire 23 May 2017
There are two final meetings on which to report which brought the 2016-7 to a close. Firstly the AGM on 24th April went surprisingly well and there was little that seemed to be contentious. There were several changes to competition rules and scoring which resulted from the season-long review by Paul Mowat and Davids Cottrell and Brown. These had been flagged up in advance in the newsletter and AGM agenda and the only discussion centred around the new simplified scoring system and in particular the guidance to judges regarding the number of commended and highly commended scores that could be awarded. Eventually it was agreed to keep to the original proposals as they were to be trialled and reviewed at the end of the year anyway. A rare sight was the presence of the Treasurer at the AGM who was able to give his report in person rather than being away on holiday as usual.
The following week was our presentation evening and buffet which proved to be a good social night. During the buffet the top three images from each of the 'big three' competitions were projected so that members could vote on their favourite image which would be used on the cover of next year's programme. The images with the most votes was Fred Lowes' monochrome picture 'Dunstanburgh Castle' – congratulations to Fred and thanks to Don for suggesting the idea.
Competition winners were: Nature - Bob Campion
Set subject - Harry McAtominey
Outings - Harry McAtominey
Panorama - David Brown
Portrait – Sid Dean
Newcomers - Julian Kenyon
Overall Open Colour Print - Don Smith Overall Open Mono Print - Norman Cooper Newcomer of the Year - Mark Keville
Novice of the Year - Derek Broadwith
Overall Open DPI - David Brown
Photographer of the Year – David Brown
Competitor of the Year – David Brown
Although the formal programme has finished for the season, we are busy with the training sessions in the use of the new portrait lighting kit which is being led by Joan, Ron, Morgan and Ian as shown in the photograph.
Presidential prattle
Peter Maguire 20 April 2017
Having returned from holiday I find that the club has been in safe hands and indeed a new outings organiser, Mary, has been co-opted just in time for the photowalk this week. Mary had also arranged dry weather for the evening and, suitably impressed, around 27 or so members met at the cathedral for a convivial amble around the area before proceeding across the High Level Bridge to Gateshead and the Millennium Bridge. I assume that many successful images were taken as by 9.30, the four of us left on the bridge found that everyone had gone home, presumably to process said images and no-one had retired to a pub! Normal service will be restored next week with our AGM (in the usual pub).
Vice-President's Latest Prattle
David Cottrell 13 April 2017
It was my job to chair the meeting again this week, which proved to be fun as always. We started with the judging of the print panels by the members themselves who are in attendance at the meeting, on a one-member-one-vote system. It was a shame that only 6 members had brought a panel. I very much enjoyed looking at them all and am keen to say that everyone's (except mine of course, on which I shouldn't comment) were excellent: I felt a little guilty (but pleased!) when my panel was declared the winner. I'd entitled it "Fun with Macros", trying to show how much fun this sort of photography can be.
After that our own Ron Henry judged the panorama entries, of which there was a large entry of 41 so Ron had a busy time (as had Paul in collating them all). Like all good judges he emphasised that his comments were all purely his own opinion. He proceeded to give very helpful constructive comments on all the pictures. This competition does not attract marks, only a 1st, 2nd & 3rd place. The first place was won by David Brown with a fabulous vertical panorama shot entitled "Beneath the Cutty Sark". In second place was Alan Harle with a beautiful photo entitled "Buttermere". I was lucky once more to be in third place with my photo entitled "Decisions - Which Way?", taken at a T-junction of corridors in Eldon Square. Ron pointed out that I was fortunate not to be ejected from the shopping centre for taking photos: I was honestly unaware of any rule against this at the time I took the photo, although a few minutes later when I innocently started to set up my tripod (for another photo) near to an information stand I was politely told off by the staff there. Seemingly one requires special permission to take photos – they directed me to an office where I could ask about this but I couldn't find it so gave up after that! (I include this information for the benefit of anyone else trying the same thing.)
Announcements included a new initiative suggested by Kenny Hannard, for those of us who are interested in forming into groups of 6 members with a mix of experience to work on a project over the summer; Maggi Shepherd is keeping track of the group members. Topics will be allocated to groups at random at the final meeting of the season.
Vice-President's Prattle
David Cottrell 13 April 2017
I've been shamed by Harry McAtominey for getting his prattle for 4th April written faster than mine for the previous two Tuesdays. Well done Harry!
Anyway on 21st March we had a marathon judging session of the third and last open print competition of this season. It was kindly judged by Bill Broadley, who managed to get through all the entries remarkably efficiently and yet give useful constructive comments on all of them. He began by helpfully explaining that he'd kept to the letter of the instructions our Club had given him – to use the full spread of marks from 15 to 30: he clarified that this meant that anyone getting a mark of 15 should not be upset that their photo was bad – only that in this particular competition, in his personal opinion, it had been beaten to the post by other entries.
In the end the colour print competition was won by Gillian Patterson with a superb photo entitled 'Buzzard's Beak', and the mono winner was Mags Atkinson with a very clever picture entitled "Life through a Mirror". Mags had a good evening as she also had a mono print entitled "After the Storm" highly commended.
28th March was a different sort of evening, with a fascinating talk: Alan Brown came to our Club for his first visit for about 4 years to speak on the title "More than meets the eye". We didn't know in advance quite what to expect but he gave a masterly presentation of prints and projected images covering a wide range of genres but particularly including street photography of which he gave many excellent examples. He asked for (and received!) lots of feedback from the audience and even gave us a choice of topics for the final section of his presentation. It was a fun session and I think he gave all of us plenty of food for thought.
Ex-President's prattle
Harry McAtominey 6 April 2017
Our final externally judged competition of the year brought Will Ireland, from Washington Camera Club to judge the Portrait and Outings competitions.
I always think this is a hard combination to judge as the portraits tend either to be studio shots, which are excellently lit and composed, or quite candid shots where the photographer has to do the best with what they are presented. Similarly the outings images tend to be almost "grab" shots, just due to the nature of visiting locations you don't know, and capitalising on the conditions of the day.
Will, however, coped admirably with the range of images presented and managed to bring out a great deal of helpful points within both categories. From compositional tips on posing subjects, to studying the effects of angles or lighting, Will added value to the judging process throughout. He was sympathetic to the problems of lighting on the outings images, (generally because on every trip I attended, the light was very flat!).
Given the time available Will managed to pace himself so that every image got good consideration, helpful advice, and supportive comments.
Congratulations to Sid Dean for winning the Portraits competition and Harry McAtominey for winning the Outings competition.
Presidential prattle
Peter Maguire 18 March 2017
This round-up starts with a busy week for the club. Our usual club night on 28th February was a training session led by Joan and Ron on how to use the new portrait lights bought by the club for members' use. This was a very useful session, especially for those like myself who do not have much experience with portrait photography, and is due to be followed up with small group sessions over the summer to help members' confidence with studio lighting. Thanks are due to Joan and Ron for all the hard work they put into the preparation for this session and not being fazed by the odd technical 'hiccup', and also to Morgan for acting as the model for the evening.
The following evening saw most of us return for the results of the 3rd round of the PDI competition judged by Jim Welsh. Jim had a difficult job with over 80 entries and we are grateful to him for rearranging his busy schedule at short notice following the double-booking mix-up of the previous week. The eventual winner was David Brown with another wonderful bird image entitled 'Bringing in the Catch' and everyone benefited from Jim's considerable experience and helpful critiques.
On the Friday of the same week a group of us travelled to Whickham Photographic Society to present our return exchange evening for this year. We had seven different presenters along with some supporters, and the Whickham members seemed to enjoy what we presented for them. Thanks to all those who put together a presentation – you know who you are!
7th March saw a return to a normal week with just the one meeting – Richard Spiers travelled over from Cumbria again to judge the Set Subject and Nature competitions with his usual helpful comments and witty asides. We seemed to have a high number of images this time that lacked critical sharpness, but the eventual winners were Harry McAtominey in the Set Subject (People at Work) competition with an image entitled Sage Windows Cleaners. In the Nature competition, the bird photographers again provided the top three places, the winner being Bob Campion with 'Puffin Landing'
Finally this week we had another excellent 'in-house' session led by Idse on photobook making. Many club members brought along books that they had had made by various companies, and it was extremely useful to hear their experiences and see the finished products. Another excellent night which should hopefully stimulate more members to produce their own books, if only to impress their friends and family!
Presidential prattle
Peter Maguire 28 February 2017
Another three weeks' digest and I'll start with Jed Wee's visit on 7th February for the Ray Cole Memorial Lecture. Jed is well known to club members having previously given at least one talk to the club, and for also being involved with trips to the Swinton Park Bird of Prey Centre. This time his talk was entitled 'A Photographic Journey' and took us to varied parts of the world, including New Zealand, Morocco and Iceland (the photographic destination of modern times). As would happen to most of us, his experiences with the weather were 'mixed', and it was inspirational to see how he had coped with inclement conditions; certainly his excellent images of Milford Sound in New Zealand were the first that I had seen of the area taken in torrential rain and were an object lesson in making the most of the conditions.
The following week, appropriately on Valentine's Day, was billed in the program as 'Ladies Night' and the ladies of the club (virtually all of them, I think) had managed to put together a programme in total secrecy. We were treated to a range of audio-visual and digital still image presentations that showcased the talents of the group. What was particularly pleasing was that whilst members' experience in the club ranged from several years to several months, they were all happy and willing to show their considerable photographic talents. A wide range of subject matter was covered from favourite images, to milestones in their photographic experience, from slick audio-visual presentations to well crafted 'selfies'. The evening finished with an audio-visual presentation of most of the group enjoying a studio shoot set to Cyndi Lauper's song 'Girls Just Wanna Have Fun' – it looked as if they did.
Many thanks to all those who all those who presented – I won't name the guilty parties in case I miss someone out, and thanks also (I think) for presenting the 'gentlemen' of the club with the challenge of putting together a similar evening for next year's program with the theme 'Outdoors'.
Last week (21st February) was due to be the third round of our PDI competition, but due to a mix-up over bookings at the pub, this has been postponed until this Wednesday (1st March) which promises to be a busy week with our exchange visit to Whickham Photographic Club on Friday.
Presidential prattle
Peter Maguire 1 February 2017
The past three weeks have seen three very different meetings on which to report - all very different but all of uniformly high quality that resulted in some very positive feedback from members.
17th January saw our club 'experts' answering questions from various club members on a wide range of subjects. Questions ranged from technical issues such as the use of flash, HDR processing and macrophotography to some of a more general nature concerning competition judging and the worth of UV filters. The subjects covered were of interest to both novice and more experienced club members so that there was something for everyone, and hopefully some of the new faces who have appeared at the club recently will be encouraged to become long-term members. Thanks to Mary, David B, David C, Ian and Ron for providing their helpful and cogent advice.
The following week saw Alan and Julie Walker travelling over from Cumbria to present a talk, the full title of which was 'What makes a successful image?...depends upon which judge you ask!'
Both Alan and Julie are highly experienced photographers and have the photographic qualifications to prove it. In a highly entertaining talk, Alan (who did most of the talking) covered various photographic genres and various pitfalls for the unwary competitor. We were then given the opportunity to view Alan's MPAGB and Julie's ARPS print panels before being invited to predict the sort of scores that their DPAGB and Alan's MPAGB panels received when being judged in assessment. It was interesting to see how differently various club members assessed the images and gave us an insight into some of the reasoning behind judges' assessments. Hopefully Alan and Julie returned home content in the knowledge that presentation had been warmly appreciated – they certainly received many questions and plaudits after the meeting.
This week's meeting was another presentation, this time by Graham Relf of Tynemouth Photographic Society, on the subject of 'Photographing the Night Sky'. This is a subject that several of our members had long wanted us to cover and Graham covered a potentially complex subject extremely well, assuming quite rightly that few of us had any experience of night-sky photography however experienced that we may have been as photographers. We were taken through the stages involved in obtaining stunning star field photographs using relatively simple equipment and were also shown what could be achieved using more sophisticated techniques, even in light-polluted Whitley Bay! Another excellent evening and yet again there were many members with questions after the talk (always a good sign!) and positive comments.
Presidential prattle
Peter Maguire 17 January 2017
David has been rather quicker in updating his news item – I really must try harder as here are quick reports on three meetings.
Firstly at our second PDI competition of the year on 6th December David Stout EFIAP DPAGB was our judge and we gave him a hard time of it with a substantial number of entries. David had been at the club two weeks previously with the team from Whickham and following some friendly banter promised to judge the competition suitably attired. Having duly turned up in suit and tie (winner of best-dressed judge at our club anyway) he worked comprehensively through the entries and was able to give helpful comments on each image, before finally awarding first prize to 'Walking The Dog' by Barry Skipper.
The following week saw a practical session on Lightroom presented by our own member, Bob Campion. As Bob indicated, he is never able to do justice to the program over the course of an hour and a half, but was nevertheless able to consider a wide range of topics. Whilst this presentation was of necessity mainly geared to those who were new to Lightroom, it never ceases to amaze me how many tips more experienced users like myself can pick up as every photographer has their own approach to any task and there are always new shortcuts to learn which make our lives easier. Thanks to Bob for putting in an phenomenal amount of preparation for this talk – perhaps we can use the rest of the prepared work in a later talk?
Finally, to 2017 and our second print competition judged by Vince Rooker DPAGB APAGB EFIAP from Morpeth on 10th January. Vince has been a judge for many years and is no stranger to our club for this purpose. Again, we had a large entry and it took him just under two hours to thoroughly work through both the colour and monochrome print competitions, with the final winners being Norman Cooper (mono) and Harry McAtominey (colour). One issue that has arisen in both of these competitions is that of the number of entries and /or our scoring system which make the judges' task extremely difficult: the committee are looking at ways we may improve this and will be putting forward ideas to members for consideration at the AGM in April.
Vice-Presidential prattle
David Cottrell 14 January 2017
Apologies for this rather belated report on our Christmas party which was held on 20th December. As usual our dedicated organising team did a fantastic job and we all had a fun and somewhat uproarious time. Ian's quizzes were up to their usual standard and had us all scratching our heads and wishing we had better memories. Then we all had to peel potatoes (as if we don't do enough of that at home…) to see who could achieve the longest unbroken strip of peel. I have to say that I was at a slight disadvantage as my potato was probably the smallest one of the lot, although I can't really complain as they were distributed at random. Anyway there was almost a riot when there was a dispute as to whether it was acceptable for the peeling process to extend into the potato flesh to increase the total length: the issue was however solved peacefully and democratically by a vote. After the sumptuous buffet provided by the friendly Millstone staff Kenny had us building local landmarks out of newspaper, paper cups and sticky tape; some were disqualified as they also used the modelling balloons (separate competition), albeit very ingeniously, and in the end the winning construction was an impressive model of Penshaw Monument.
Thanks must go to everyone who was involved in the organisation in any way; it's always dangerous to mention names in case anyone gets missed out (please forgive me if that's the case, my memory's not what it was!) but Maggi, Ian, Kenny, Terri, Alan and Lesley certainly deserve thanks.
Presidential prattle
Peter Maguire 1 December 2016
Many thanks to David for keeping the news page up to date when I was away. Normal service has now been resumed - in other words I am updating three reports in one.
15th November saw our 'Pecha Kucha' presentations by various club members. These are presentations restricted to 20 images and 20 seconds per image. Since we introduced this format a few years ago, everyone has become much slicker in their presentations and no-one overran their allotted 6 minutes and 40 seconds. We enjoyed a varied range of subjects varying from travel destinations as far-flung as St Petersburg, the Azores, Namibia and Whitby to canal cruising and the consequences of missing your flight. Thanks are due to Idse, Harry, Tim, John, Norman, Peter, David and Ron for their excellent presentations and also their meticulous timekeeping.
The following week saw another variety of subjects presented, this time by members of Whickham Photographic Club, with whom we have an exchange this year. Five members from Whickham arrived (with their travelling supporters) and I was able to hand over presentation duties to Alan Wilson from Whickham who introduced the speakers. We began with print presentations by Ian Morland and Keith Kirkland. Ian described himself as relatively new to photography, but showed some excellent prints covering a range of subjects that were particular favourites of his, whilst Keith had a range of wonderful prints covering many years of his coverage of motorsports. We then moved on to digital images and David Stout's travel images, which came with useful tips for those of us trying to achieve his standards; Keith Toon's miscellany of pictures accompanied by a range of anecdotes and finally Alan Wilson's beautiful wildlife images from his safari experiences. Many thanks to the presenters from Whickham who put together a varied range of excellent images and who have created a high standard for us to reach for our return visit to their club on 3rd March.
Finally this week (29th November) we held our knockout and newcomers' competitions. As usual in the knockout competition, where images are paired against one another and voted for by the audience, there were several occasions where excellent images were pitted against one another in the early rounds and eliminated. Also there were the usual close votes and recounts – trying to count raised hands in a darkened room is not easy! The eventual winner was Don Smith's image of a donkey in a relaxed pose – the subject matter was so relaxed that it couldn't even raise its head off the stone wall on which it was resting.
The newcomers competition encourages members who are new to the club to enter the competition scene without the intimidating presence of experienced competitors and helpful comments and critiques were supplied by Ron Henry and Ian Winship, both former judges on the NCPF circuit. The standard of entries was impressively high, and the eventual winner was Julian Kenyon with a striking monochrome portrait of an elderly gentleman in Cuba.
Vice-Presidential prattle
David Cottrell 17 November 2016
On Tuesday last week I had the honour of chairing the club meeting for the first time: in the absence of President Pete you had Deputy Dave.
This was the second competition judging of the current club year, this time of open prints. There were about 60 colour entries and about 40 monochromes, but the large number of photos and the wide range of subjects did not faze our judge Mavis McCormick LRPS (Club President at Hexham), who did a sterling job of getting through them all in a little over an hour and yet giving constructive comments about each one. She had kindly given up attending her own club meeting on the same night to attend, and her husband Alan (also a certified judge) had come with her.
The monochrome competition was won by Norman Cooper with his excellent print entitled "Spirals", with Juan Fitzgerald and Fred Lowes in 2nd and 3rd places. Don Smith pulled off an amazing hat trick by having his three colour prints placed 1st, 2nd and 3rd! – with superb prints of owls taking the top two places. Mavis said she'd had a hard job deciding which of the owls to put in the top place: in some ways she liked the 2nd place photo better herself but she felt that the winning one "ticked the judging boxes" better.
Presidential prattle
Peter Maguire 6 November 2016
I'm playing catch-up this time so there are no less than three meetings on which to report.
On 18th October, our own member David Brown gave a presentation on some of the 'rules' that photographers adopt when making landscape photographs. David is well known in the club as an excellent bird photographer, but the fact that he also takes very good landscapes may have been news to some of the other members. He was also not afraid to show us images that had not performed well in club competitions and explained why he liked them, even if they did not find favour with the judges. David's talk was an extended version of a short presentation that he gave as part of our summer beginners' programme last year and gave many snippets of useful advice to all club members, not just those new to photography.
The following week, 25th October, saw another members' presentation – billed as 'The Two Ronnies', Ron Henry and Ron Henderson showed us a number of audio-visual presentations on subjects as varied as southern Florida, various aspects of Newcastle life, former (and present) members of the club amongst other. It made for a very relaxing evening as one could just sit back, enjoy the music and admire the photography and the skill of the authors. Hopefully other members will be encouraged to try their hand at this format and we can make this type of event a regular item in the club calendar.
Finally, on 1st November we were treated to a tour-de-force on wildlife photography by local professional Alan Hewitt.
Alan started his talk with some excellent photographs of bird life on the Farne Islands (our local 'safari' venue) before moving on to East Africa, in particular the Masai Mara area of Kenya. Not only were the images of the highest quality, but Alan also interspersed his commentary with observations on how the photographs were taken, insights into the behaviour of the animals and how this would relate to the taking of photographs. This was an inspiring and highly educational evening, and I'm sure that the quality of the pictures and the deep interest shown in the subjects' behaviour was enjoyed by the large audience.
Next week we return to the competition scene with the first of our print competitions of the year.
Presidential prattle
Peter Maguire 18 October 2016
Our first club competition of the season was held last Tuesday and was a PDI contest. A good range of entries (70+) was assessed by David Richardson APAGB from Ryton CC and he was able to provide excellent and very pertinent comments to images which represented a wide range of subjects. I understand that David is scaling back his judging commitments in future so unfortunately we may not be able to enlist his extensive experience in future competitions.
It was particularly pleasing to see amongst the entries a number of sports photographs which have been under-represented of late and the general standard of entries was very high. Congratulations to Anne Stoddart who won the first prize in this competition with her beautifully presented image of a tulip flower, a style of image that does not often catch a judge's eye.
Presidential prattle
Peter Maguire 7 October 2016
This week we were treated to a viewing of the accepted Open Colour and Open Monochrome print entries from the 2016 NCPF Northern Counties International Salon.
Personally, I always find this a fascinating evening in our annual programme and it always sparks some ideas which I can use in my own photography in future. It is also a welcome opportunity to see what other photographers are producing, both in this country and around the world, and the usual high standards were evident.
In previous years Vince Rooker has heroically struggled along to the club by himself with three large boxes of mounted prints: this year we had a team of four! Graham Hopkinson, Edith ? (both Wallsend CC), Joseph Duffy (Ryton CC) and John Twizell (the NCPF prints co-ordinator) seamlessly combined to load and remove the prints from the lightbox, present the titles and provide a commentary. Our thanks are due to them for giving up one of their free evenings to come along to the club
Presidential prattle
Peter Maguire 29 September 2016
On Tuesday we had one of our members' evenings – 'Images of Summer' – which as you might expect gave us the opportunity to see what some of our members had been up to over the summer months.
Eight members each gave a ten-minute presentation with a selection of images that they had taken over the past few months. This was not purely a selection of travel images or 'holiday snaps' (heaven forbid!), but we were also treated to a selection of images of music festivals, unusual signs, amusing and candid pictures from club outings as well as the expected travel images. Our members are certainly well travelled, with images from Iceland to Madeira, and Florida to Poland showing local festivals, wildlife and landscapes.
It was yet another enjoyable and varied evening, and I would like to thank Alan, David, Alan, Ron, Mark, David and Juan for all their hard work in putting together their presentations which showcased a wonderful range of images and made for an enjoyable and sociable session.
You may notice that all of the presenters for this evening were male – the girls will get their own back when we have a 'Ladies Evening' in December. I have no idea what they are planning for that……
Presidential prattle
Peter Maguire 21 September 2016
Another week, another portrait session! After Sid's presentation last week, we were treated to a more formal talk and demonstration by Phil Punton, which excellently covered aspects of lighting portraits. Phil had been at the club last year and gave an excellent presentation at that time around a similar theme, so this year we had the more advanced approach. After a short talk illustrated by examples of Phil's own portrait work alongside light positioning plans to demonstrate lighting setups, we moved on to the practical side having been encouraged to bring our own cameras along.
Initially it took some cajoling to persuade club members to come forward and try out the lighting setup and triggers that Phil had brought along, but we soon had a steady stream of people stepping up to the plate. Even those who were not taking photographs were able to share in the discussion of the results viewed on the back of the cameras. Phil was as approachable a teacher as ever, and discussions of our results and various aspects of portraiture continued well after the coffee break, even continuing into drinking time at the end.
Thanks are again due to Phil for an enthusiastic and well-presented evening and I am sure that members will be interested to know that he also runs one-to -one and small group courses which are listed on his website: www.philpunton.com
Presidential prattle
Peter Maguire 15 September 2016
Last night the winter programme continued with an excellent talk from one of our own members, Sid Dean. Sid has been a member of this club, and also several others, for more years than he would probably like me to put on record here and we were treated to the benefit of his extensive experience.
The talk was entitled 'People Photography My Way' and yes, there was a lot of portraiture and street photography there, but there was also a lot of anecdote, reminiscence and sundry snippets of advice about photography in general sprinkled in amongst Sid's presentation. As Sid is well-known amongst club members for his comprehensive photographic knowledge and sometimes irreverent approach to the subject, there was a lot of lively two-way banter between speaker and audience which made for an entertaining evening. I am sure that all the members and potential new members who were present were able to gain something which will be of benefit to their photography and enjoyed Sid's presentation, which was humorous, entertaining and informative.
We were also delighted to welcome an overseas guest, Berthold Klammer of the German photographic club Fotografische Gesellschaft 1925 Düren. Berthold had approached me whilst we were setting up the recent exhibition at Newcastle Central Library, and was able to attend this meeting which I understand was very different in format from those he attends at home. Looking ahead, we hope foster some mutual exchange of ideas between the two clubs in future.
Ex-President's Prattle
Harry McAtominey 9 September 2016
Well the new season has kicked off with a new President steering the ship. Peter Maguire started proceedings with the traditional President's night talk. This involved a canter through Peter's photographic history, his photography passions, and where he intends to take his photography next.
As we have seen at the various competitions, Peter is an accomplished photographer with a wide range of subjects. He outlined how he started very early into photography combining this with his love of walking and mountain climbing, throughout Britain but also on the continent. He also developed an interest in nature photography which dovetailed well with his other hobbies.
Kids intervened so, as for all of us, photography took a back seat for a while. In later years Peter came back to active photography, now combining a love of travel with all his other interests. Peter has developed (no pun intended) his nature and flora photography and now is a regular contributor to several nature magazines, regularly illustrating articles with his shots.
As retirement beckons, (this week!) Peter has plenty more interests to press ahead with. The imminent purchase of a motorhome means that he will be out and about even more so we can look forward to an even wider range of images in the future.
A thoroughly entertaining night which has set a very high bar for the season to come.
Presidential pre-season prattle
Peter Maguire 26 August 2016
Well that summer, such as it was, passed in the blink of an eye and a new autumn season and programme is upon us already. There has been a steady stream of regulars visiting the Millstone on Tuesday evenings, and as the new season approaches there will no doubt be many more.
Over the summer we have enjoyed several excellent excursions, organised by Alan Harle with his usual eye to detail, even providing excellent weather for our trips to Alnwick Gardens, and the Pickering to Whitby steam train excursion. Further trips are planned for the autumn in this, Alan's last season as trips organiser, and will be announced shortly.
The library exhibition was set up this evening and provided to be a slick operation this year thanks to the excellent planning and organisation by Joan which meant that all the prints were set out in an hour and a half.
The team of helpers were so stunned by this accomplishment that we had to retire to the library café for a coffee to recover. Due to the rapid progress in staging the prints, this was fortunately accomplished just before they closed. Thanks are due to all of those who were able to help set-up, and I would urge all members to drop in over the next two weeks to see the exhibition in the Central Library: I think that we have done the club proud.
To any non-member reading this who has been inspired by the exhibition to join us, then do please come along to one of our evening meetings at 7.30pm on Tuesday evenings in the upstairs room at the Millstone pub, Haddricks Mill Road: the first meeting is on the 6th September.
Club outings
Alan Harle 4 May 2016
PHOTO WALK Tuesday 24 May 2016
Please meet at North Shields Fish Quay car park for 6.30pm (if it is raining at 5.30 there will be no walk)
SALTAIRE Sunday 12 June 2016
Leaving from outside the Job Bulman Pub, Gosforth at 9.00am, Returning from Saltaire 6.00pm
Any problems on the day contact Alan Harle on Mobile 07480 070020
ALNWICK GARDENS Tuesday 19 July 2016
Cost £10 payable on the night.
Members please meet at 7.00pm at the Greenwell Road Car Park which is behind the Playhouse Theatre in Alnwick (car parking is free)
We will then be met by Trevor from Alnwick Gardens and taken into the gardens. The water features will be running and we will also have access to the Poison Garden.
The gardens will close at 10.00pm.
PICKERING TO WHITBY TRAIN JOURNEY Sunday 21 August 2016.
Leaving from outside the Job Bulman Pub, Gosforth at 9.00am, Returning from Whitby at 6.00pm
Any problems on the day contact Alan Harle on Mobile 07480 070020
President's Prattle
Harry McAtominey 13 April 2016
Last night we attempted to go on one of Alan's photowalks. He had organised a trip to North Shields Fish Quay and the evening looked like it could give the possibility of some early evening shots in good light, followed by some low light opportunities. Alas it was not to be.The day steadily got darker, culminating in a light mist descending. Unfortunately, at the coast this was deep sea fret, almost fog.
As quite a few members had turned up, the night wasn't a write off as most of us retired to the pub and put the world to rights.
President's Prattle
Harry McAtominey 12 April 2016
Last week we had Lionel Bryan judging the portraits and outings competition.
As usual both competitions had a wide and varied number of entries. For the portraits Lionel had some good comments to make about mounting the image and framing it correctly, in the context of composition. He showed that several could have been enhanced by a tighter framing on the face, giving more impact and directing the eye better.
Similarly in the outings competition, the wide range of entries brought forth some further insights into the composition. Many of the outings images had the feel of street photography but none felt like snatched, candid shots. All of them had engagement between the subject and the photographer, many with an element of posing.
Congratulations to Margaret who retained her portrait trophy, (we'll have to try harder to get it from her next year), and to Alan who, after having found the old outings trophy in a charity shop, bought and cleaned it, then promptly won it.
President's Prattle
Harry McAtominey 31 March 2016
A longer prattle this week as I have been falling behind.
Two weeks ago we had Jane Black here judging the last round of the prints competition.
As usual there were a lot of both mono and colour entries and Jane did a good job of talking through why she was marking each image as she was, but I thought there was too much emphasis on what would go down well in a salon competition. Much of Jane's talk was about what was in fashion, e.g. smaller print sizes, how the image was mounted etc. While this was helpful to those members considering furthering their interests this way, I felt it was daunting to those of us who just enter our own club competitions. Nevertheless, this did give us a very good marker as to what we should be aiming for, in order to improve.
Jane's comments were very illuminating on the content of the image and also being able to see beyond the obvious and constructing dynamic images from everyday situations. This was especially true of a couple of night time images of everyday townscapes.
Another good night and congratulations to all the winners.
We followed this up with Gosforth visiting Cramlington Camera Club for the reciprocal visit this year.
We were made very welcome by Cramlington and despite some hitches with getting the aspect right for some images we gave a good view of what has been succesful at our club this year. The quality of our presentation was greatly boosted as none of my images were shown. We introduced Cramlington to Pecha Kucha and Bob, David and Idse did a great job. Joan blew their minds with how she constructs special shots, and Ron produced another great AV. Finally David highlighted the strength of the nature section in the club by showing a selection of images by six members.
Thanks to all who took part.
Finally this week we had Neil Atkinson taking us through his 40 years as a pro photographer.
This commenced with one of his first images being printed on the front page of a national newspaper when he was thirteen but then being refused a commission to do more shots for them as he had to be in school! Neil then took us through the sorts of images that fascinate him, from shots of the colours inherent in rocks and sand, to the cityscapes in which he sets much of his teaching workshops.
A really good night, the most unexpected element was the part that photography can play in helping people through traumatic circumstances. Not what we expecting initially but very thought provoking and this provided much debate in the pub afterwards.
A very good night to finalise the external speakers part of this year's schedule.
President's Prattle
Harry McAtominey 21 March 2016
[Most of these were submitted soon after the meeting concerned but while the webmaster was on holiday - he's now catching up!]
The camera club auction on 15th March was an extremely entertaining evening for which we have to thank Kenny and Sid. I have to say that the quality of the auction items was very high, so much so that I myself bought something, breaking the habit of a lifetime. I was delighted to get an excellent camera backpack, just the right size for an upcoming holiday and doubling my (wife's) carrying capacity.
As usual Sid was his entertaining self, although I thought a section at the back played tricks upon him, bidding quickly before he had identified the original bidder, and with quickfire bids coming from all corners of the room such that control was impossible. Kenny taking phone bids didn't help!
A great night with the club making c£250.
Thanks to all who donated and to all who purchased items.
----
Richard Spiers judged the Nature and Set Subject competitions on 8th March. He made the long journey from Carlisle on a not particularly nice night.
I hope he enjoyed the evening as much as we did because Richard was, as ever, a very entertaining judge.
The set subject was Movie titles. The range and the imagination shown by some of the authors in interpreting the title was fantastic, so much so that Richard has cajoled his own club into stealing the idea and they will have the same set subject next year.
In fact Richard mainly allowed the attendees to have a go at guessing the title before he revealed it. Gone with the wind proved popular and I'll leave that to your imagination in how it was interpreted, but the winner was a number of stuffed toy sheep with their mouths gaffer taped. "Silence of the Lambs" was a worthy winner for David Cottrell.
The nature competition again showed the breadth of the nature section in the club. Fascinating images all, the winner, and continuing a good run of form, was David Brown.
----
On Tuesday 1st March we had the Ray Cole Memorial lecture.
This year it was presented by Chris Ceaser, a renown landscape photographer based in North Yorkshire. Chris has a gallery in York which showcases his excellent images.
The theme of the night was composition in landscape. Chris started by stressing that what he was talking about was how he approaches getting an image. Although he would go through the classical rule of thirds etc, he generally looked for other things in image as well. Chief among these was Chris's concept of balance within an image. In most good images from Chris, if the image was divided into quadrants, then each quadrant could either stand as an image in it's own right, or at least had something of interest to hold the eye.
Also Chris looked for things to lead the eye. Often this would be classical leading lines, but sometimes it would be just bands of colour, or perhaps triangles formed of different colours. For each of his thought Chris had several excellent images to describe how they worked. Chris also presented images which he felt didn't work, often because they had a dominant item sin the foreground which drew the eye away from the better parts of the image.
Delivered in a relaxed and humorous style, the two hours flew by, and Chris was captured by several enthusiastic members later for detailed questions and answers.
Another excellent memorial lecture. The bar has been set high for next year.
----
On Tuesday 16th February we had our internal "F Stop" group presenting.
This was group started by Juan with a view to taking photography back to the basics. By this is meant the image only being processed in a way which would be used by darkroom photographers, so mainly cropping, boosting contrast etc, but no extensive use of image editing tools. It has a reportage side to it, as the main focus was street photography, although they do do elements of studio photography, (actually the upstairs room of a pub!) where musicians attend to practice and they occasionally set up lights for people to model.
Most of the images were taken by Alan and Juan, and Juan presented these. They ranged from candid street shots of people, reflections in shop windows, street events such as the Chinese Dragon Dances etc.
The evening was rounded off by Sid talking about his style of photography which had been revitalised since he bought a bridge camera. The wide angle side of the lens aiding street images while the extra long zoom enabled him to concentrate on far distant action. Sid rounded the evening off by showing a video which was probably the wedding photographer's nightmare.
An excellent evening which gave those of us not trying street and candid photography food for thought as to how we could incorporate such images into our portfolio.
One for one of Alan's photo walks in the summer.
----
Idse stepped into the breach and brought forward his talk on the Land of the Long White Cloud to 9 February.
He and his wife had holidayed on the North Island of New Zealand a while ago and this was his pictorial record of the trip.
Idse, being Idse, had taken over 3000 images, so I think whittling them down to a presentable number must have taken him quite some time. Because of the number of images however, we were treated to a very comprehensive tour, including a number of off the beaten track treks.
Regularly Idse would appear in the image, (presumably taken by his wife) and invariably he would be perched on some rocky outcrop or up to his ankles in water. He certainly went the extra mile in the quest for the deciding image.
Idse's photos covered a very wide range of genres. As you would guess there were great shots of birds and wildlife, stunning landscapes, but also elements of reportage, with shots of tractor borne tourists being rescued from incoming tides.
All in all, an excellent night, very well presented, and enjoyed by all.
President's Prattle
Harry McAtominey 25 February 2016
First an update on last week's one shot challenge. This was where disposable cameras had been used
to take the 27 shots on the film roll.They were then developed and presented to themembers straight out of the camera, ie no Photoshop .Thus it was a return to no frills photography.
12 members presented boards of four images each.Members then voted to choose the best image of them all.The images were very good, given the limitationsof disposable cameras and send away processing.
Congratulations to Maggi for her inaugural win.
On Tuesday we had Dave Illingworth of Morpeth Camera Club judging the last round of our projected images competition.
Dave is an entertaining and knowledgeable judge even if, given he comes from Birmingham as he says and is therefore unfamiliar with wildlife,he did have a significant number of nature imagesamong the 79 he had to judge.
David has judged 9 competitions this year and was going on to judge a ten club competition later this week, so how he found the time to do our images justice, I'll never know. How he maintained his enthusiasm for the task was equally baffling.
Nevertheless David did give a very comprehensive analysis of each image presented laced with humour, but also with some very incisive and insightful comments.
Congratulations to Don, who despite David's lackof nature experience, won with a wonderful shot of an owl.
Terri came second with a minimalistic snow scenewhich David thought, blown up and placed on a
loft apartment wall, would sell for £10k!
Another good night in the club.
President's Prattle
Harry McAtominey 8 February 2016
On Tuesday we had Trai Anfield presenting to us. Well known as a former BBC presenter, Trai now has a multi faceted career. Under the Enlightened Media banner, she now does media training; corporate media production and presentation; hosts various television magazine programmes; holds photographic workshops and training events; is a patron of three charities; and is wildlife and lifestyle photographer of some repute.
Trai started out explaining how her move from TV had come about. Although well known as a presenter, Trai always wanted to be behind the camera in some way, involved in all of the creative makeup of whatever event was being planned. Having gained some experience of this, Trai then set out on her own, gradually moving from exclusively video, to an eventual focus on still photography. In the three or so years since Trai commencing this work, her interests have expanded considerably, from mainly working in the North East and England and the border region of Scotland, to much further afield, now encompassing Iceland, Africa and the far north to include polar bear and northern lights safaris. Red kites are a particular passion.
The images Trai showed illustrated the fantastic range of interests she pursues, and the very high level of technical proficiency and creativity she brings to bear. Some of her safari images were extraordinary, but even more interesting were the tales she used to explain how some of the images were obtained. Lying down before a bull elephant, or walking into the highlands to interact with gorillas were fascinating to hear.
This was the first time Trai had presented to a camera club, and she was somewhat concerned that her images would not be up to the standard of some of our member's images. As Gosforth CC has some extremely good photographers, many with a serious interest in nature photography, this could have been a risk, but needless to say, even the specialists amongst us were hugely impressed with what we saw and heard. Overall another great night in this year's schedule.
All of Trai's photographic safaris and commercial photography and film work can be viewed on her website http://www.enlightenedmedia.net/
President's Prattle
Harry McAtominey 3 February 2016
On Tuesday 27th, we hosted Cramlington Camera Club in a visit to entertain us, before we reciprocate in March.
Eight of their members presented, and once again I was struck not only by the quality of what local camera clubs produce, but also the variety and the imagination of the presentations. I was fearing the bane of all presentations, incompatible equipment, and us not being able to do justice to the presentations on the night. I was immensely cheered therefore when all of the presentations loaded, whether they were images, slideshows, AV or video, without a hitch.
The evening got off to a good start when Lauren, the CCC president wowed us with a series of images (allegedly hastily cobbled together!). She had only had a camera for one year before becoming CCC president so the quality of the presentation was exceptional. Lauren was followed by members showing presentations on wedding photography, images of music gigs, an AV from the Sunderland air show, a series of images comprising nature and travel, and a wonderful show of images of old Newcastle blended with modern images from the same viewpoint. My apologies to the CCC members if I have missed anyone.
Afterwards there was much mingling and sharing of experiences. I'm sure the camaraderie between the two clubs has been greatly improved by the evening.
We now have to give some serious thought to what we are going to do when we visit Cramlington.
President's Prattle
Harry McAtominey 21 January 2016
Our very own Joan Hall presented on Tuesday night.
Joan has been scheduled in for the past two years but has had to cancel each time as photo shoots which were weather dependent intervened. No such trouble this time as Joan presented her photographic life story and how she got to where she is today - one of the pre-eminent photographers in the club - and an acknowledged expert on fantasy and fashion based images. Indeed part way through the talk Joan was explaining a how she imagined, orchestrated and eventually stage managed, a shoot in Saltwell Park. It was this shoot which caused the cancellation of Joan's talk last year.
Joan's story began with her casting around for a new career after injury curtailed her fashion career in London. She knew she wanted a creative career and decided on photography after watching a documentary on Mario Testino. To kick start this, and before buying a camera, she decided to join a club. She tried Gosforth, was made to feel welcome, and decided it was the club for her. Luckily I wasn't President at the time or we might have missed out on a mighty talent.
The bulk of the talk was about how Joan first imagines an image, sets up a storyboard, and then the prodigious efforts she goes to, to ensure the final image fits with her originally imagined one. This may involve hand building sets, press ganging neighbours as models or helpers, hair and makeup artists, and hours spent in Photoshop. For several of the location shots you could see many of our members helping Joan out. Although in awe of Joan's technical ability, the thing that most impressed me was her sales skills. No-one else could persuade Ron Henry to stand in the middle of a river holding an electrical lighting set up!
A brilliant night which received a well deserved standing ovation.
President's Prattle
Harry McAtominey 14 January 2016
This week we had Alan McCormick of Hexham PS judging the second leg of our prints competition. Once again we had provided our judge with a stern task, with 52 Mono prints and 48 colour.
We use a marking system of 0 to 30 points for images and we ask judges to use a full range of marks to aid competitors in choosing images. Alan took our system and did give a very wide range of marks. He allied this to detailed descriptions of why he was marking accordingly, with some trenchant views, particularly on photographers doing their images justice by their presentation. Some images were indeed poorly presented and would have undoubtedly scored higher had their mounting and backing boards been of a similar standard to the actual image.
Alan's comments were incisive and constructive and should help photographers in future competitions. The images again had a wide range of subjects, making Alan's job of choosing, even harder.
Some of our members are in a tremendous run of form and this was shown by the HC's and placed images. Norman Cooper continued his fine run with a number of placed images and won the mono competition with a lovely minimalist landscape image. David Cottrell won the colour, (surprising even Alan who chose it! He didn't think a landscape image would win) with a finely detailed shot of a canal boat.
Well done to all who participated.
President's Prattle
Harry McAtominey 7 January 2016
Well the new year got off to a great start, but first a belated mention of the Christmas event.
Once again it was superbly organised by Maggi, Ian, Kenny, Terri, and Lesley. Thanks for all the effort. Kenny in particular turned the mid part of the night into a sort of Blue Peter scenario where teams attempted to make landmarks out of newspaper. He must have stored up about three months worth of papers somewhere to make it work.
The food was great once again: the Millstone did us proud. Lots of members turned up and a good time was had by all.
On Tuesday we restarted with a Pecha Kucha night.
Once again it was a great success with several members presenting for the first time. I was astounded by the variety of subjects which members presented and talked about.
For those of you who weren't there, the presenters and subjects, in no particular order, were,
David Brown on gaining the CAPGB award,
Michael Shepherd on the type of photography that floats his boat, but doesn't necessarily chime with judges,
Peter Fawcett on family history in the Dales,
Bob Campion on fireworks displays,
David Cottrell on imagination generators to spur on imaging,
Kenny Hannard on another Blue Peter topic, how he makes Advent calendars for the grandkids, even if most of them are adults,
Peter Maguire on photography in a cold climate, i.e. a trip to Boston in the snow,
Paul Mowat on a trip to Berlin,
Norman Cooper of a four seasons view of photography through the year
Idse Herrema on a club trip to Scotland where it appeared that waterproofs were the most essential piece of kit to pack.
Anther very entertaining evening and I hope it's spurred on newer members or those who don't show very often, to give it a go. You are among friends!
For those entering the single shot competition can I remind you that the images should be printed 6in by 4in and should be straight out of the camera with no manipulation allowed.
Your four best images should be mounted on a white backing board and numbered.
These are due in, in two weeks, so you probably need to complete the film and get it processed in you are entering.
Vice-President's Prattle
Peter Maguire 14 December 2015
This is a somewhat delayed report on our Knockout/Newcomers evening on 1st December. A regular fixture on the club programme, in the best of sporting traditions, this was a game of two halves. Harry was unwell and didn't even make the subs bench.
The first half was our Knockout competition which pitted two images against one another for the members' votes, the winner going forward to the next round to be randomly shuffled by the software expertly managed by Paul, to compete against a new image. As the round progressed, there were groans as favoured images were pitted against one another and several recounts of voting before Allan Beeton emerged as the winner.
After a quick coffee break we moved on to the Newcomers competition which is open to members in their first or second seasons in the club, and for which we introduced a slightly new format. As in previous years our own Ian Winship was our judge, but we also had Ron Henry giving further advice on how he would have approached taking the picture. Pre-competition discussion between Ian and Ron ensured that they agreed upon the winning image, and the extra comments and feedback were hopefully useful to our newcomers. This approach seems to have been successful so we are likely to continue with it next year, and this year's competition, with a high standard of entries was won by David Cottrell.
President's Prattle
Harry McAtominey 11 December 2015
Last week we had the 4 way PDI competition again hosted by Cramlington Camera Club. Competing were Morpeth, Cramlington, Gateshead and Gosforth, with 8 entries per club. Ours were Bringing home the catch, Evacuation adventure, Girl in a white sunhat, Ready to pounce, Green lady, Loch Etive, Will o'the woods, and Sedge Warbler.
We got 207 points and came second behind Morpeth on 208, so there's only one point in it after this first leg. Congratulations to all who had their images entered.
On Tuesday we had the second leg of the internal PDI competition judged by David Stout of Ryton Camera Club and once again there was a large number of entries of a very high standard. David seemed very keen on looking all round the image and showed how some surplus elements right in the edges or corners detracted for some of the images. He was also keen on cropping right in to the main action point of the images.
The winner was Peter McGuire with a very colourful shot taken in a Boston underground train station. Congratulations Peter.
Remember that the Pecha Kucha night is the first night back after Christmas so those intending to show, get your images ready. The format is 20 images with 20 seconds per image, then the image is moved on, so you need to be quick at getting your point across.
President's Prattle
Harry McAtominey 28 November 2015
On Tuesday, Juan Fitzgerald gave an illustrated talk on Jimmy Forsyth, the photographer who best documented Tyneside in the fifties, sixties and seventies. After working all round Britain in the forties, Jimmy settled on Tyneside and eventually ended up with a camera. Being self taught and having only one eye wasn't a problem to him, and he began to document the streets of Tyneside, but mainly Scotswood, in his own way. Many of his early images could be likened to those of Don McCullin, street smart gangs of youths; girls made up to go out on the town; and street urchins always ready for the camera.
Juan got to know Jimmy as he got older and was no longer as prolific as before. He aided Jimmy in getting out and about and knew him in his later years in the care home.
Juan also brought along some books of Jimmy's photographs as well as one on the music scene which had many photos taken by our own the late Jim Perry. It was n entertaining look back at all our yesterdays, even if they weren't that long ago.
On Thursday Cramlington hosted the NCPF North Tyne Print competition with eight entries each from ourselves, North Shields, Wallsend, Whitley Bay, Ponteland, Cramlington and Tynemouth.
I recognised all of our images, (as well as several others we have seen recently at the club), however, I'm unsure of all the photographers so take a bow the owners of, Dainty Dinah, Bridges to St Pauls, Fetch, Kingfisher on a Bulrush seed head, Low water at Staithes, Evacuation adventure, Otter on the lookout, and the Dead tree. We were represented by Lesley, Ian, Peter, Don, David, Bob and Harry. Thanks to all for turning up.
We had a very good result with High Water at Staithes getting highly commended and Morgan's Kingfisher on a Bulrush Seed Head getting second place. Gosforth won with 200 points from Tynemouth and Whitley Bay who tied for second. That means we have won the North Tyne prints three years in succession.
Next week we have the projected image leg of the 4 way competition, also at Cramlington. Good luck to all in images in the next round.
President's Prattle
Harry McAtominey 18 November 2015
On Tuesday 10th we had the judging for the first of our print competitions of the year.
Bill Broadley of Blyth Camera Club was our judge, marking a return to Gosforth as we were Bill's first competition judging after becoming a judge last year. Once again Bill faced a mammoth task, with over 110 images in two competitions, mono and coloured. Again there was a very wide range of genres represented in the competition and, to me, I thought the quality of entires was extremely encouraging. We also had quite a few entries from newcomers to the club and this level of participation is particularly gratifying.
Bill did an excellent job of providing feedback on the images and tips on improvement. Bill teaches photography and post processing skills and it was very evident in his feedback that he had considered all aspects of the images. His comments on more subtle cropping to provide more emphasis were insightful, and his general enthusiasm for his subject was evident. Another excellent night.
Congratulations to Don and David, the overall winners of the two competitions and the runners up and HC's.I know David Brown immediately tagged a couple of images for inclusion in external competitions later in the year.
President's Prattle
Harry McAtominey 18 November 2015
On the 17th we had Peter Talbot giving a talk on a scientific expedition he had participated in to visit the Antarctic region.
He had travelled to New Zealand to participate in a post graduate course. Completely self funded, Peter had spent some time in Christchurch before departing to the camps on the Ross Ice shelf for a three week expedition. The flight there in a 30 year old, propeller driven, ski equipped airplane, the inside of which looked like a World War Two experience, left quite a bit to be improved upon.
Once there, Peter visited the various huts left by the Scott expeditions and his photos from inside the huts provided an eerie and haunting view of what they went through. With photos that showed how some of the experiments were carried out, and others showing the various wildlife encountered, Peter's was an interesting presentation, not just a photographic show, but an insight into how scientists fare on these remote locations.
All of Peter's presentations are undertaken for no fee, just a donation to the Prostate Cancer Society and we were happy to oblige.
President's Prattle
Harry McAtominey 3 November 2015
Last Tuesday we had a talk by Anne Swearman on Printing for Pleasure. Anne is a member of Whitley Bay Photographic Society and a stalwart of the NCPF.
She showed a tremendous range of images covering a wide range of genres. Luckily for us, Anne only travels by car, so all of the images shown were within a reasonable travelling range of the North East. While the images themselves were very impressive, what was more so was Anne's recollection of when she took the image, what the conditions were, and how the image looked to her on the day. She was then able to talk through how she processed several images to ensure the final printed image was as how she remembered it. Often this involved much post processing involving several layers within Photoshop to bring about the final effect.
Anne obviously is a post processing master (mistress?) and it showed that she was prepared to take much time, and several efforts, before she was satisfied that the final print did justice to her photograph and her memory of the day. Later Anne spent some time with several members talking through the printers she uses to produce such astonishing results.
A very memorable evening from an amusing and technically excellent presenter.
President's Prattle
Harry McAtominey 26 October 2015
Last week we had another clinic whereby members submit questions for a panel of members to offers advice and opinions on. We had a wide range of questions, some pertinent as to how specific images were produced, some as to camera techniques and functions. As usual there was a generous contribution from the floor as members supplemented the answers from the panel, with observations of their own.
Ian discussed how his winning image from the week before was produced with the aid of a specific photoshop plug in. Alan had pertinent advice on evening photography, especially with respect to light trails. Peter drew the short straw with several questions concerning HDR, remote control and Lightroom. I picked up one question about the AE-L/AF-L function on Nikons, which was very useful to me, as I have a Nikon and had never researched this feature.
All in all an entertaining and informative night. Thanks to all concerned for the time and effort involved in researching and presenting the answers.
President's Prattle
Harry McAtominey 19 October 2015
On Tuesday we had the results of our first competition of the year, the first round of the projected digital images. As usual there was a large entry with 86 images submitted.
Rob Appleby of Gateshead Camera Club was our first judge of the year, and he had his work cut out, not just because of the number of images but also because of the quality. Of necessity, Rob had to go through the images at some speed, but that didn't stop him making perceptive comments about each image. The evening didn't feel rushed at all, primarily because the comments were very balanced and included some hints as to how Rob thought a lot of images could be improved, rather than just critiquing the image as presented.
Congratulations to Ian for his winning entry and to Peter, Ted, et al, for other highly scoring images.
President's Prattle
Harry McAtominey 7 October 2015
Our excellent start to the season continued last night with a talk by Phil Punton on portraiture. Phil is local photographer who turned professional a couple of years ago. Within a couple of years he's making money from his profession, lecturing and training to aspiring photographers, and presenting exceptionally good talks to camera clubs.
Phil started with his own views about how to take portraits, mainly showing how you needed to make a connection with the subject, relax them, and involve them in the process. He then began to show a number of his portraits, taken over many years. Although not a technical talk specifically, Phil was able to demonstrate the effects of different settings, and how lighting was all important in making a dramatic image. In particular he demonstrated how by moving the subject, and allowing different amounts of light to fall on the background, a light background could be made to represent lots of different shades, almost turning black in one shot.
Lately, Phil has begun to use ambient light much more, especially in his sports portraiture and street photography. He explained how auto ISO can be invaluable in these situations.
At the end Phil thought he should really have spoken a little longer, but he had given such a good talk that he was inundated with questions. Indeed we almost had to drag him away from members to allow him some well earned refreshment. In the bar afterwards all the talk was about how much the members had enjoyed the evening.
Phil says he has lots of subject matter for talks so, if you are reading this Phil, book us in for another talk next year.
President's Prattle
Harry McAtominey 1 October 2015
Tuesday saw another of our internal sessions, this time on what I did over the summer.
Nine members spoke, all limited to ten minutes each, but with no limit on the number of images shown. This led to a wide variety of techniques, with some showing fewer images but explaining them, while others showed a very comprehensive variety of images, at a decent speed. What impressed me was the very travelled nature of our club, with images from a huge range of destinations.
There were many English landscapes taken over the summer and these highlighted what a variable summer it was. Some had fantastic lighting conditions, while some had to put up with the sort of drab, overcast English light at which we excel.
All the presenters had a great tale to tell, with some excellent images to back them up. Congratulations to Morgan, John, Peter, Alan, Alan, Gillian, David, David and Ian for an excellent night.
Treasurers's Prattle
Ian Woodrow 23 September 2015
In the absence of both Harry and Peter on Tuesday 22 September I took over introducing our very own Ron Henry to give a talk on "How to make an AV"
I first met Ron in the 1970's when he described himself as an "audio-vidualist', and he hasn't changed. He is a master of the art of AV, and proceeded over the next 90 minutes to show us how he went about producing an AV show. Starting from basic principles, he slowly built up a show, carefully explaining each step along the way using the Pictures to EXE programme.
This was followed by him showing the finished 'Around the World in 80 Greys' he had made earlier, and very impressive it was too. By popular request he then followed with a 16 minute light hearted skit on Lithuania which he entitled "Mithumania'. Very funny it was too, and the whole evening earned a well deserved round of applause.
We are lucky to have such a skilled technician as a club member. Many thanks Ron.
President's Prattle
Harry McAtominey 16 September 2015
On Tuesday 15 September the club members were entertained by Jed Wee giving a talk on "Life through a long lens". This turned out not to be a paparazzi night so we were spared indiscrete pictures of celebrities, however, we were treated to, among other things, some fabulous images of sporting celebrities.
Jed is a member of Durham Camera Club and has been a professional photographer for several years. This has included an extended spell as Newcastle Falcon's official photographer, but also as an agency photographer. Because of this Jed had a plethora of very fine sporting images to commence the talk. He explained how viewpoints and experience are vital to good shots, so, for example you only get one chance at a swimmer coming straight at you to get the swimmer's head plus the reflection. After the first leg of the race the pool is constantly churning, foiling any chance of a reflective image. Also Jed showed how a sporting image need not actually have a lot of sports in it, so sometimes the drama of the after event, or the intent shown in practice sessions, are equally intriguing
Latterly Jed has also included landscape and nature as a part of his repertoire. The nature images were inspiring, especially those taken with close up lens so the subject was included within a context. Squirrels climbing down a tree to inspect the camera, or an otter taken at river level were absolutely excellent.
Delivered in a light hearted and humorous manner, with lots of technical insight, Jed's talk was a great start to our external speaker programme.
Vice-President's Prattle
Peter Maguire 15 September 2015
Following a successful first night of the season on 1st September, which is traditionally the 'President's Night' where the incumbent presents the club with a wide ranging and eclectic selection of his own photographs, Harry then disappeared off on holiday leaving me to preside over the following week's meeting.
His presentation was as usual witty, engaging and covered a wide range of subjects from his experiments with photographs of bursting balloons and water droplets, to a tour of the southern USA. There were a number of new faces at the club, and I hope that they were suitably impressed. Harry said that the President's night sets the standard for the coming year – actually he said that it sets the (low) standard to surpass. If so, we have a splendid programme to look forward to following such an excellent first night.
The following week was partly an interactive night and we began with Bob Campion showing us some of the new aspects of Lightroom which are useful in processing images. This presentation delved into some parts of the program such as maps and printing from Lightroom with which I am not familiar, and I'm sure we all learned something new – many thanks to Bob for stepping in a relatively short notice to provide a stimulating talk. The second half of the evening was a question and answer session about processing images using some of the more experienced club members as 'experts'. To ensure that we had enough questions to answer, Maggi had previously obtained a few questions from various people to start the process off, and it quickly became apparent that if we had covered these questions in depth, then we would have taken several hours/days to answer fully. As this would have taken us well past closing time in the pub downstairs and the audience was growing thirsty we had to provide only outline answers, and this is a subject to which we will return, perhaps as informal training sessions next summer to follow on from our beginners programme this year.
Black and white conversion
Joan Hall's notes on converting to black and white using colour channels and a layer mask can be downloaded:
Black and white conversion
Resizing images
Harry McAtominey has provided notes from the training session last week.
These are in PDF format and can be downloaded:
Changing resolution
Crop an image
Pictures at an exhibition
Ron Henry 28 August 2015
To say that the hard work began last Wednesday is, perhaps, right for a few of us but in truth, Kenny and Harry have been working on our summer exhibition since last Christmas. Kenny has been planning and organising the City Library venue and Harry has been cajoling us all to select our pictures and present them in a size fit for the standardised mounts.
Two weeks ago the committee and one or two hangers on, collected all the images together and cleaned, mounted, titled and framed them, while Joan began to weave her magic designing the layout. Two weeks and several corrections later, eleven of us met up at the City Library for the big installation day last Wednesday.
Having mounted the Library exhibition three or four times now, everything was well organised and the 'workers' were in good humour. Everyone was happy – providing we all kept to Joan's plan of course – but it's still a difficult and fiddly task poking cable ties through the holes in the metal display stands – without making smutty remarks and making sure – courtesy of home-made templates – that the space between the pictures was correct. Of the three teams, team Maggi with David and John, was by far the best. Doctor Michael was on hand to repair broken frames and Detective Lesley reported back to Commandant Joan if any shortcuts were even thought of, never mind suggested.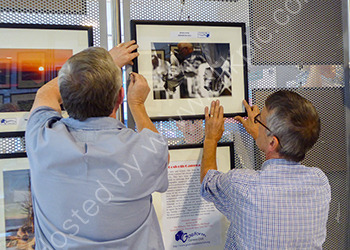 Although Kenny had supplied hundreds of the dreaded cable ties, because of Joan's insistence that we all complied with the plan, causing re-fitting of several frames, the inevitable happened and we ran out of ties. It was just before the shops closed so Morgan was despatched to find more. Fearing the worst Harry ran in the opposite direction and we inevitably ended up with almost the entire stock of Newcastle's cable ties – but we got the job done just before the library closed, the last fixing falling to Peter.
As we were leaving, one of the Library Porters made a point of coming over to us and saying he'd seen many exhibitions mounted in the space, but he was very impressed with the speed and efficiency with which our little team had performed, putting up so many pictures in such a short time and with such good humour. Just sums up Gosforth Camera Club really.
I always think that our City Library exhibition is well worthwhile but this year it looks better that ever. It really represents what a good group of photographers we have with over sixty pictures which were not taken to be judged, just taken for our pleasure. It's really well worth a visit during the next two weeks.
Successes for Gosforth Camera Club in the 2014 NCPF Annual Competition
David Brown 14 May 2015
The results and individual scores from the competition have now been declared by NCPF.
Thanks to the much larger number of quality entries submitted by GCC members this year, the Club was able to make a strong selection of 6 monochrome prints, 6 colour prints and 6 PDIs (which NCPF call DPIs) and fully enter the inter-club part of the Annual Competition. From 29 NCPF-affiliated clubs we came 10th in the monochrome prints, 8th in the colour prints and 7th in the DPIs. That puts GCC firmly in the top third of the clubs, an excellent achievement for 'Team Gosforth'.
About 1500 images are submitted annually by individual members from the affiliated clubs, and the standard at this regional level is very high. There are 3 rounds of judging, by different panels of judges:
1. The first panel awards marks out of 15, decides the trophies and prizes, and awards 'Highly Commended' status to close-runners. In this category our members achieved 5 'Highly Commended'.
2. A different panel of judges then looks at the best-marked images (looks like 11-15) and decides on those images to be short-listed for use in inter-federation competitions organised by the Photographic Alliance of Great Britain (PAGB), representing NCPF nationally. These are the 'Alliance Selection'. Our members achieved 4 'Alliance Selection'.
3. Finally, a third panel of judges looks at the remaining images after removal of the Alliance Selection, and picks the 'Selectors Choice Portfolio' to 'represent the work of the NCPF's members', which together with the winning images and the Alliance Selection become available on disk. Our members achieved 6 'Selectors Portfolio'.
The above achievements were won as follows:
Bob Campion: 'Parliament at Night' (Mono Print):  Highly Commended; Selectors Portfolio.
Bob Campion: 'Bridge to St.Paul's' (Colour Print): Highly Commended; Selectors Portfolio
Don Smith: 'Otter on the Lookout' (Colour Print): Highly Commended; Selectors Portfolio.
Morgan Stephenson: 'Fetch' (Mono Print): Highly Commended; Selectors Portfolio.
Don Smith: 'Bittern on a Mission' (Colour Print): Highly Commended.
David Brown: 'Great Spotted Woodpecker' (Colour Print): Alliance Selection.
Sid Dean: 'Family in Evening Light' (DPI): Alliance Selection.
Peter Fawcett: 'Sedge Warbler' (Colour Print): Alliance Selection.
Ian Winship: 'Polevaulter' (DPI): Alliance Selection.
Joan Sheppard: 'Horny Encounter' (DPI): Selectors Portfolio.
Morgan Stephenson: 'Crested Tit' (Colour Print): Selectors Portfolio.
You can download the
full results
of the NCPF 2014 Annual Competition.
Final President's Prattle of the Year
Harry McAtominey 6 May 2015
Yesterday we had the final meeting of the 2014-2015 season, the prize giving. Overall, I felt it was an excellent night, especially as I just had to stand there and shake hands. Loyal committee members as usual did all of the work!
It was great to see how many members were awarded something on the night,many more than has been usual in the past. This reflects the fact that more members are entering the competitions, even if for some it is on a sporadic basis. After all, even entering just one competition gives you the chance of winning something. I should know! 19 members gained a range of highly commended, and a further 16 members gained place awards in the various competitions, including two new ones: the novice of the year and portrait photographer of the year. It was great to see the look of surprise on some of the faces as the awards were read out. Obviously some people had forgotten how they actually did in the competitions early in the year.
All of the winners will be noted on the website but special mention must go to David, who retained his competitor of the year trophy; Morgan, who won photographer of the year; and Terri, who was awarded an honorary life membership of the club. Kenny was a worthy recipient of the Presidents Prize.
The Millstone did us proud with an excellent buffet. All in all, an excellent end to the year which made me look forward to September when we start again.
Please remember the training nights which start at the Millstone Tuesday next at 7.30, and that quite a few of us will be in the lounge later for a drink and a natter on Tuesday evenings. I will be there to pick up images for the library exhibition later in the year so please keep them coming. We have quite a few in but not any black and white images, and only one in square format. A variety makes the presentation a little more interesting.
President's Prattle at last
Harry McAtominey 24 April 2015
As the season draws to a close there is much to be done. That's my feeble excuse for not writing up the last two meetings of the club.
Here is a combined prattle to set the scene for our last two meetings.
On April 7th we had the judging for the new portrait competition and also the outings competition. The portraits competition was for a new prize, the Jim Perry Memorial Trophy, named in honour of Jim who sadly passed away some time ago. This was a good competition with a number of entries. It was gratifying to see that at least four entries had originated at our own modelling practical night earlier in the year. Barry Skipper had a tremendous time, coming second and third with two entries in contrasting styles. Barry however was pipped at the post by Margaret Daley with a very appealing portrait of a young child.
Barry did then achieve first place in the outings competition with "Evacuation Adventure". The two Davids, Brown and Cottrell, came second and third.
On the 14th a good number of members joined Alan in the last, for this year, of his organised photo walks. We met at Greys Monument intending to walk along to St Andrew's Church. This has some fantastic aged, carved tombstones as well as a very colourful interior. We were thwarted however as the churchyard gates were locked. We walked on through Chinatown, down to the Central Station and Centre for Life, and eventually down to the Quayside. It was just getting dusk as two things happened. We came upon a Mods scooter club out for the night, and, we were joined by Dave who had started late and chased us all around the town, just getting to our location as we left it. With that in mind we called it a night and headed off to the Millstone for a well earned libation.
Thanks Alan for another enjoyable evening.
Well only the AGM and the prize giving evenings to come, and we can wrap up another very successful year for the club.
[Webmaster's note - Harry forgot to say what a good job the judge did in the Outings and Panoramas competitions!]
President's Prattle
Harry McAtominey 13 March 2015
Once again we had Richard Spiers to judge at the club, this time the Nature and set subject competitions. The set subject was Reflection.
Richard had judged at the club in previous years and is popular with our members as he manages to give very constructive criticism within a humorous framework. He had his work cut out with almost 90 pictures across the two competitions. Richard had come across from Carlisle - quite a long journey - so it would have been understandable if he had wanted to rush things and get away, but quite the opposite. He was his usual urbane self, lacing his comments with humour, yet giving quite serious messages as to the strong points within the image, as well as to how the images could be improved.
The range of nature subjects was very wide, from African wildlife, through almost posed pets, to foliage and ferns. Quite a few of the images had backgrounds which detracted from the main subject, and Richard was adept at pointing this out, as well as showing how some different crops enhanced the image. .
The set subject had some fantastic interpretations of Reflection, not just the obvious ones. It was apparent that several members had gone out with specific interpretations in mind, and got the image they wanted solely for the competition. Richard did a great job once again and retained his position as a must have judge for the future.
Paul is going to place a list of all winners, placed, and highly commended on the notice boards next week. Well done to all who took part.
President's Prattle
Harry McAtominey 5 March 2015
On Tuesday, Stephen Byard gave a talk nominally on tilt and shift techniques and images. I say nominally because, although tilt and shift did figure quite prominently, Stephen covered so much ground that any one subject could only be a minor part of it.
In 75 minutes, Stephen showed 465 images!
Obviously, going at such a rate meant that some images were just shown and not explained, but the show was so well put together, that one image built on top of another explaining previous points and giving alternative views of the point under discussion. In the tilt and shift segment Stephen showed how tilt and shift lens got the depth of focus and miniaturisation effect but he also explained how to get the same effect by differential focussing and stacking of images. He also showed how, by constantly returning to favourite locations, a portfolio of different views could be gained, just through subtle light, timing, and positional changes, as well as by the obvious differences caused by the change of seasons.
All in all a thought provoking evening with a wealth of extraordinary images.
President's Prattle
Harry McAtominey 2 March 2015
Last Tuesday saw the final leg of the PDI competition, with Bill Broadley of Blyth Camera Club as our judge. This is Bill's first year as a circuit judge and we presented him with quite a task as there were over 70 entries, of very high quality, and covering every possible genre of photography.
In this entry there was a large number of portraits, (possible a try on for out forthcoming portrait competition), as well as sports, B&W, landscape, studio shots etc. Bill did an excellent job, finishing on time, yet appearing to have plenty of time to offer insightful comments, and helpful tips.
A straw poll afterwards indicated the members thought Bill was one of the best judges we have had this year, so his judging career is off to a fine start.
Congratulations to Angi Wallace who won with one of her excellent frog pictures.
Our prints get more appreciation than our PDIs at the NCPF Club Championships
Bob Campion 20 February 2015
On the 15 February, four members of the club met at Beacon Lough Baptist Church for the annual NCPF Club Championships. While our PDI score placed us in the middle of the field, we had the pleasure of seeing our prints entry do very well in achieving 4th position, behind Northallerton, who seem unbeatable, Tynemouth and Durham.
At the Club Championships each image is judged on a brief view of a few seconds by 3 judges who each can give up to 5 points per image. Each image can, therefore, score up to 15 points. As it turned out, none of our prints scored 15 but three of our prints scored 14, and two scored 13 (which requires at least one judge to give the image 5). These were:
Valentine's Bridge by Angi Wallace - 14
Crested Tit by Morgan Stephenson - 14
Kingfisher Portrait by Morgan Stephenson - 14
Sedge Warbler by Peter Fawcett - 13
Bridge to St Paul's by Bob Campion - 13
One could say there was something of a theme or two running through our successful prints but it wasn't continued elsewhere. In particular, we were very disappointed that the previously very successful 'Icon of the Wetlands' only scored 11. In fact, had that and one or two others been given the sort of scores we expected then we would have been pushing for a podium spot!
Our scores on the PDI competition were much less gratifying and ran at an average 11 overall giving a total score of 220 which placed us amongst a cluster of clubs in the middle. Our best score was a single score of 13 which was for 'Spidery Flowerhead' by Idse Herrema. Six images scored 12 and nine scored 11, the remaining 4 scoring 10 or below.
Perhaps we should concentrate on prints in future.
President's Prattle
Harry McAtominey 19 February 2015
The Ray Cole Memorial Lecture was given this week by Steve Race, a Scarborough based nature photographer of many years standing. Internationally renowned, Steve had one photograph commended in the 2013 Wildlife Photographer of the Year awards and another in the 2013 British Wildlife Photography award. The first was used in David Attenborough's recent series Life Story and reproduced in the accompanying book.
In opening the lecture I made  a quip that we were in the presence of photographic royalty. Well, Steve made that comment come true. He gave us a ninety minute trip up and down the Yorkshire coast and inland, showing fantastic images, and explaining how many of them were taken, often at short distances and with a wide angle lens, so it was apparent that we could all hope to get similar images to Steve's.
Equipment would not be the problem. However, it was  also apparent that you wouldn't get images like Steve's unless you had a deep interest in nature and studied the habits of the wildlife so you could anticipate what they would do next.
Steve illustrated his pictures with many short stories as to how the individual picture came about. He was generous in giving us location details, even to which numbered lamp posts you should use in Scarborough Bay, to find a Peregrine Falcon's nest!
Laced with humour, Steve's talk was a wonderful example of how even someone not particularly interested in nature could be kept enthralled. The time flew past.
Steve also does a series of nature and photography trips and workshops which looked excellent value for money.
Gosforth Camera Club has an extensive group of photographers dedicated to nature photography, with a deep and varied understanding of birds in particular. The highest compliment I can pay Steve is that they all thought his talk and pictures were excellent, and they didn't spot one factual error in the entire ninety minutes. A first!
President's Prattle
Harry McAtominey 15 February 2015
On Tuesday we had Keith Moss and his wife visit to talk about portrait photography. They had travelled up from Saltburn to be here, so we were very grateful for the effort they put in to entertain us.
Keith has been a professional photographer for many years undertaking commissions from manufacturers, magazines and individuals. He has now returned to his first love which is portrait photography, especially street photography and combines this with portrait commissions and leading photography tours and workshops. Keith still works extensively in film and is acknowledged to be one of the foremost black and white photographers in the country.
Gosforth has a large group of members interested in street and portrait photography so we were expecting a night full of debate and discussion. Although the talk was mainly billed as a slide show, Keith spent lots of time explaining how he engaged with people to gain their trust quickly and allow them to take their portrait. He discussed his use of mirroring body language to put people at ease and gain confidence, how he studied them to quickly facilitate engagement, and how he used tricks of the trade to present people in the best light. His memory was prodigious in remembering where he took particular portraits and how he encouraged people to allow him access to their personal space or indeed, residences and workplaces.
The members debated with Keith throughout, and he kindly stayed on for quite a while discussing with us in the pub afterwards.
All in all, another thoroughly good evening.
Pecha Kucha Prattle
Harry McAtominey 6 February 2015
This week was a first for us as we held a Pecha Kucha  night.
Pecha Kucha is a Japanese term meaning chit chat. It came about at a forum for Japanese architects as apparently architects are well known to go on and on, especially with slides or Powerpoint. Pecha Kucha is a format where participants put 20 slides up and only have 20 seconds for each slide. So 6 minutes 40 seconds in all, with the slides advancing automatically after 20 seconds. We didn't quite get it right on every session, with some wanting to talk longer over a particular slide than others, and some being cut off in full flow, (well done, Ron!) with a couple left.
The night was a great success. We were over subscribed on willing speakers, with several members who hadn't spoken before. The range of subject matter was great. They ranged from serious subject matter like nature, to twenty photography lessons, to Kenny's immensely frivolous take on an Italian Jewish wedding. Some just used jpgs and advanced them, some used powerpoint, and some used AV. Some were simple snaps that told a tale, some were serious attempts to show how to get closer to nature, and some showed the progression of interests as one's expertise in photography improved. Everyone seemed to thoroughly enjoy it, and there was widespread admiration for the effort everyone put in.
Afterwards we polled members and it was overwhelmingly decided to do it again next year. It was Idse's idea, but he had decamped to New Zealand to avoid it. He's first in line next year!
Thanks to Alan B, David C, Alan H, Paul M, Peter M, Don S, Norman C, Kennie H, David B, Ian W, Bob C, Mary N. (The names have been disguised to protect the innocent and to encourage more new participants next year.)
President's Prattle
Harry McAtominey 30 January 2015
This week we had our very own Ron Henry talking about, and showing how to make, AV presentations. Ron is pre eminent in the area for AV, so expectations were high. However, Ron admitted he was busking it somewhat as, having decided to do a major part of the evening on how to make AV's, Kenny had asked him to do a full session on this in September! Ron therefore had amended the show very quickly.
If Ron was busking it, it didn't show.
First he showed us how to make an AV using Pictures to Exe. In ten minutes Ron had assembled a more than competent video and made it look very easy. I think most of us were thinking that we could do that with minimal effort. Ron then showed an AV of a recent holiday in Tombstone, Arizona, and it immediately became obvious that while we could all do it, it takes a lot of talent to do it well. Needless to say, Ron did it very well. The pictures were great as you would expect, but the music fitted in very well, the commentary was excellent, with humour and insight in abundance, and the length was well judged to hold everyone's interest without straying.
Ron finished with a very good AV which was a composite effort of six members of the club from a recent trip to Scotland. The music was bit too "garage" for some of the older members, but Ron explained it had been chosen by Ian! Another excellent night, with an equally good one to look forward to in September.
President's Prattle
Harry McAtominey 22 January 2015
On Tuesday 20th January, Harry Hall gave a talk on trekking the Chadar in the Himalayas.
Harry is a mountaineer who then began to branch out into photography. As he travelled through remote areas of the world he got very interested in the communities who still endeavour to make a life in these inhospitable places. Harry now describes himself as a visual ethnographer and works with Sunderland University on projects in remote places.
The Chadar is a route used to connect remote villages in the Zanskar Valley.
Cut off in winter, the only way to get provisions is to walk the frozen river in the spring, at all other times it is too dangerous.
Here's a description from a trekking company
"Ladakh can be a difficult place to travel. The mountains are steep and in the winter snowfall closes many of the mountain passes and makes the few roads treacherous. Some villages become completely inaccessible between November and March. One method of accessing snow-bound villages during the winter is trekking on top of the ice of frozen rivers. The Chadar trek is one such route, connecting villages in the Zanskar valley (deep in the mountains) with Chilling (on the road to Leh) along the frozen Zanskar River. This route has been used for centuries for trade and transportation, and is most reliable in February when the ice is most stable.
Now, We should make it clear that the Zanskar river is big and fast-flowing. For most of its length between Chilling and the Zanskar valley the river is confined within a steep canyon. If the idea of walking over frozen river ice with a large pack on your back and very cold rushing water a few inches below your feet is terrifying, then you are not alone. People sometimes die on the Chadar trek, usually local porters who carry goods on the river for their livelihood and can't afford to be conservative.
The hie from Chilling to the Zanskar valley takes more than a week, and at night porters usually sleep in caves in the canyon walls. "
And here's a New York Times article
http://www.nytimes.com/2011/11/27/travel/a-himalayan-highway-on-the-frozen-zanskar-river.html?_r=0
Harry's description of the trek was enthralling and made us understand how privileged we are in the west. Some of his photos and stories of the overnight camps, or the villages they went though, were fascinating. It was a thoroughly enjoyable evening and I have to say that, for a visual ethnographer, Harry's a very good photographer!
President's Prattle
Harry McAtominey 15 January 2015
On Tuesday we held the second leg of our prints competition, judged by Jim Welsh of Blyth Camera Club. Jim started by saying that although having been in and around clubs, the Federation, and judging for many years, at heart he was just a photographer and liked nothing more than grabbing the camera and heading out. He had quite a job on his hands as there was almost 80 images spread across mono and colour prints.
Jim's first comment was how impressed he was at the standard of the printing. Almost universally the images were very well printed, and in particular the portraits, (of which there quite a few) had excellent skin tones and rendering. Jim had obviously taken much time and effort over studying the image and this was evident in the breadth and depth of the analysis he provided on each one. He often interjected humour into his comments and had insights into how he felt some images could be improved.
Overall I thought the quality of images in this leg of the competition was better than in the previous leg. The winner of the Mono prints competition (and also winner of the novice element of the competition) was Joan Sheppard with a beautifully printed image of a zebra drinking. Morgan Stephenson won the colour image section with another fantastic bird image. Congratulations to both.
Unfortunately Joan was taken rather unwell at the end of the meeting. Get well soon, Joan and hope to see you back for the next leg of the competition.
President's Prattle
Harry McAtominey 9 January 2015
Last Tuesday we had two members of Whickham Photographic Club, Peter Dixon and John Race. The two had spoken at one of our meetings two years ago and were very humorous as well as showing lots of excellent images. Hopes were high therefore that they could maintain their high standard and we were not disappointed.
As usual there was humour in abundance and the two form a very good double act. If there was a theme, (difficult to say as their images range over such a wide range of subjects), I guess it would be how to make the most out of local assets such as Beamish and Tanfield, and how going back repeatedly gives ever more opportunities to provide fresh twists on familiar subjects.
Once again the images were superb and it was instructive as to how simple subjects, with very little content really, could be so visually appealing. The interplay of light was to the fore, and they showed how simple re-arrangements of subjects could greatly enhance the final image. I think most of us left with a determination to repeatedly visit the sites on our doorsteps to see how we can improve on our images each visit.
President's Prattle
Harry McAtominey 23 December 2014
First an apology for taking so long to post the latest news. In fact I've taken so long, I've amalgamated two meetings into one news item.
On December 9th we had the second leg of our PDI competition. This was judged by an old friend of the club, Alan McCormick from Hexham Photographic Society. Alan tends to judge once a year at the club so he has past history to guide him. He did offer one comment that he thought overall, that this year's entries weren't up to the quality of previous years. While not necessarily agreeing with Alan, he's a very experienced judge so any message like that must be considered. Perhaps collectively we need to up our game a little.
The competition itself had a lot of entries and as usual, covered a wide ranges of genres. Alan had incisive and measured comments for each image but yet again failed to spot the virtues of my images!
Congratulations to Angi Wallace, the overall winner with "Siren". Second was Jacqui Stanley with "Lone Figure after the rain" and third was Morgan Stephenson with "Please Sir, Can I have some more?"
This competition was the first where we ran a novices section, where each image was judged against all the others, but novices images were recognised and count toward a new prize at the end of the year. This was won by Joan Sheppard with "Brooklyn Bridge at night". Congratulations Joan.
On the 16th we had the annual Christmas Party. A lot of members attended and a good night was had by all. Ian Woodrow compiled, officiated and arbitrated on the annual quiz. The raffle had an excellent selection of prizes, and the buffet was, again, excellent.
We did vote for a new logo for next year and this was won by an image submitted by a friend of Ian Woodrow, so we will work this up and have it on next year's programme and promotional material.
The voting by members of the public for the prints displayed in the Library exhibition resulted in Jacqui Stanley winning that award.
Finally we had a superb game of bingo devised by Kenny. I know that sounds strange, bingo is bingo and quite boring isn't it? Not when organised by Kenny, ask any of the forty members who all thought they had won on the same number! Brilliant Kenny, thanks again.
Here's to the second half of the year being as good as the first. We start again on January 6th with a guest speaker, Peter Dixon, on Colour Digital Projected Images.
See you all then. Happy Christmas all.
Win a photographic commission for National Geographic Traveller
[As mentioned in Maggi's email]
Do you dream of shooting for the UK's best-loved travel magazine? We're on the lookout for an adventure-hungry photographer who has what it takes to head out on a photographic commission to Kenya's Masai Mara. There, you will roam the African plains in search of the great migration, spend starlit nights in luxury and showcase Kenya's epic wildlife to the world through your very own images and social media. This is the perfect opportunity for a photographer with a sense of adventure and lovers of the great outdoors who are hoping to expand their career.
To apply for the photographic commission, National Geographic Traveller is inviting UK photographers to send in their vision of the world in one of six different categories: Action, Animal, People, River, Rural, ?and Urban.
Grand prize: Tatra Photography is offering an incredible wildlife photography tour for two in the world-famous Masai Mara National Reserve in Kenya to witness one of the greatest spectacles on earth — the wildebeest migration in the heart of Africa's big game country. By day, you and a guest will have the opportunity to photograph lions, leopards, rhinos, elephants and buffalos, and receive masterclass tutoring from professional photographer Simon Stafford, who will help you make the most of your passion for wildlife photography.
And when you're not snapping away, you'll be staying in the award-winning Sanctuary Olonana luxury camp on a private stretch of the Mara River. On your return home, your best images will appear in National Geographic Traveller, handpicked by our judging panel. tatraphotographyworkshop.com
Category winners: The winner of the River category will win a place on Viking River Cruises' eight-day Romantic Danube itinerary. vikingcruises.co.uk
All six category winners will win a year's subscription to National Geographic Traveller and a place each on Foto Ruta London's flagship excursion Foto Ruta Clue — a new and unique approach to photography tuition and city sightseeing that will test your photography skills and creativity while leading you around the capital. foto-ruta.com
The shortlist: We will send the shortlist a promo code to receive a free print of their entry from theprintspace, which offers a state-of-the-art photo printing service. theprintspace.co.uk
The independent judging panel consists of Carol Enquist, National Geographic's senior photo editor; Simon Stafford, professional photographer who runs Tatra Photography's Masai Mara package; Kaley Sweeney, editor, The Magazine of the World Photography Organisation; and Duncan Longden, a photographer and regular contributor to National Geographic Traveller (UK). Chris Hudson, National Geographic Traveller (UK)'s art editor, will decide on the shortlist and will have the final decision on ?the winner.
Details at http://natgeotraveller.co.uk/photo-competition-2015/
The closing date is 15 December 2014 at 5:00pm GMT.
President's Prattle
Harry McAtominey 5 December 2014
This week we had two competitions on one night, the newcomers competition and the knockout.
The format of the knockout is that two pictures are shown side by side and members vote on a show of hands for the best. The loser is eliminated and the competition moves on. This means that occasionally the decision is easy, as one image is so much better than the other, and sometimes it's hard. Several in this competition were very hard, necessitating several recounts as each recount came up with different answers! Standing at the front I thought mischief was afoot as I detected members voting differently on different recounts.
Eventually a winner was declared, so congratulations to Anne Stoddart.
In the newcomers competition, (open to those in their first two years at the club) and judged by Ian Winship, there were fewer entries than in previous years. Only fifteen images were entered. Despite some fierce competition, we had an overwhelming winner. Joan Sheppard took all of the first three places, the first time this has happened in my memory. Congratulations Joan.
Congratulations are also due to Angi Wallace. Her image, "Of the Night" took joint first place in a four way competition held last week at Gateshead Camera Club.
Interclub competitions: Won 1 Lost 1
David Brown 2 December 2014
On Tuesday 25th November we hosted the NCPF North Tyne Area Interclub Print Competition, in which all 7 member clubs entered 8 prints each. We had a big attendance - standing room only - with the other 6 clubs all well represented. Our guest judge was Keith Suddaby (of Morpeth Club), one of only 60 national PAGB judges, who gave us excellent insightful feedback.
And what a cliff-hanger of a climax! With 55 prints marked and just the final print from North Shields to be scored, Tynemouth and Gosforth were joint leaders on 210 marks, but North Shields on 187 needed only 24 marks from that final print to win the competition. As Keith began waxing lyrically about it, it seemed as though North Shields would be the clear winner. But no, he gave them just 23, and we had a 3-way tie! The Rules of the Competition were consulted, and we then had to discount the lowest score from each of the tying clubs and count their remaining total from the 7 best entries. Tynemouth and North Shields subtracted 23, but Gosforth subtracted only 21 and therefore we won, and Harry was presented with the trophy on behalf of team Gosforth.
We also won the trophy for Best Individual Print, for David Brown's avocet monochrome 'Icon of the Wetlands' (30 marks). Highly Commended prints were Don Smith's 'Deep in Thought' (29) and Peter Maguire's 'Nearly There' (28).
Other scores:
Bittern on a mission - Don Smith - 27
Grey heron - David Brown - 26
Northumbria spires - Norman Cooper - 25
Old Elvet Bridge - Bob Campion - 24
Judging day - Norman Cooper - 21
On Thursday 27th November the PDI half of the 4-way Interclub Competition (Cramlington, Gateshead, Gosforth and Morpeth clubs) was hosted by Gateshead, with guest judge Malcolm Kus. With only 32 entries (8 from each club) Malcolm opted to go through all 32 giving his comments but without marks. We then had a buffet supper before reconvening to receive the scores. It was a close-run contest with only 9 marks separating the 1st and 4th teams, but alas we were in 4th place. Scores were Morpeth 204 (winners of the PDI section), Cramlington 201, Gateshead 196 and Gosforth 195, and these scores go forwards to be added to the Print competition (at Gateshead on 19th March 2015) when the club with highest aggregate score will win the trophy. As the scores are so close, it is still 'all to play for'.
Angi Wallace's image 'Of the Night' was joint best image with the maximum 30 marks, tying with 'Dunstanburgh Castle' from Cramlington club.
Other scores:
Bittern landing in the reeds - Don Smith - 25
Forest girl - Angi Wallace - 25
Blue tit with fat bite - David Brown - 24
African dawn - Peter Maguire - 23
Stitch in time - Norman Cooper - 23
Sweet peas and shell - Anne Stoddart - 23
Gannets off Bass Rock - David Brown - 22
President's Prattle
Harry McAtominey 25 November 2014
On 18th November we had the first leg of the open prints competition.
This was judged by Jane Black, a long standing member of both Tynemouth and Sunderland Camera Clubs - an interesting North/South combination. Jane is also a stalwart of the NCPF and the RPS.
We did give Jane a Herculean task, with 97 images to judge, split into black and white, and colour images. As usual, all sorts of genres were represented, so Jane had her work cut out, both to judge the images, and then to give a critique of them. How she managed this while only slightly over running  I don't know, but suffice it to say, I found her comments illuminating and relevant to each image she judged.
Congratulations are due to Morgan Stephenson, with his winning black and white entry "Looking up to Daddy", and to Norman Cooper for his colour image "Tenacity"
President's Prattle
Harry McAtominey 17 November 2014
The last two meetings have seen committee members stepping in for speakers who, for one reason or another, couldn't make it.
Two weeks ago Peter McGuire did a talk on Lightroom. The target audience was relative newcomers to Lightroom, (which I certainly am), but of course Peter showed some quite advanced ways of working and some neat tricks and tips. He took us through the various ways of getting images into the system, and then cataloging and marking them so that they can easily be found. Of interest to me is the way each person has a different way of building folders and naming conventions so that long ago images can be found relatively quickly. Peter had a neat way of doing this which showed up my simple, year then folder name technique.
Later Peter took us through quite a lot of the development options showing how relatively simple adjustments can greatly improve an image. One thing which it is great to get is a quick look at the range of pictures members actually take, rather than those that they show and discuss.Peter had images covering every type of genre so I look forward to a wider range of images in future.
Two weeks ago I presented talks on resizing and on HDR.
The resizing talk was aimed at enabling members to target set sizes of print, both because it is more economical if you send pictures away for printing,and because our next exhibition will have a limited range of sizes encouraged.
One paper on changing resolution is already on the blog site and I will add a cropping paper soon.
The HDR element concentrated on simple means of generating HDR, some from single images where bracketed shots were unable to be taken, and some where just a simple HDR treatment could offer different styles for consideration.
Mainly I used Photomatix Elements as this is available free on their website, (details on the blog).
The best tutorial on HDR which I have found is on
http://www.photoshopcafe.com
This is a download article which is easy to follow and gives a good exposition of what can be achieved.
Good sites to view HDR images are
http://www.stuckincustoms.com
http://www.blamethemonkey.com
Nature competition
The rules for this have been modified to give greater clarification of what subjects are allowed. See the
Competitions page.
Next year's programme
Harry McAtominey 6 November 2014
We are beginning to think about the next year's programme, so any suggestions from members as to what they think worked well and could be repeated, and what new items they would like in the programme, will be gratefully received.
Club logo competition
Harry McAtominey 6 November 2014
We previously announced a competition for a new logo for the club and Ron did a quick new version, which is the one being used on the current programme.
We would like entries for the new logo to be handed in to Ian Woodrow on or before December 9th.
The logos will be shown at the Christmas buffet on the 16th and the winner voted for by the members.
This will then give us time to incorporate the new logo into next year's publicity material.
As previously announced the logo should be up to 3 other colours and black.
Entries should be supplied as PDI.
A logo should be capable of being free standing, but able to be incorporated into a banner for the website if possible.
President's Prattle
Harry McAtominey 30 October 2014
Last Tuesday we had Mary Hartley speaking on "Overland to Oz".
Mary is a member of Ryton Camera Club but when she undertook the trip she was just beginning to take an interest in photography and had no skills in photo retouching. She emphasised that most of the images were "just snaps" but most were much better than that. Even those obviously taken from the windows of the truck they were travelling in showed and interest in the subject matter and a keen eye for composition.
Mary had planned such a journey for a while and took early retirement in order to spend seven months travelling in a large all terrain truck, right across Europe, through Iran, Pakistan and India, then down through Asia and ultimately to Australia where they drove down from the north, through Alice Springs and ultimately on the Melbourne and Sydney.
As you can imagine the evening was as much story telling as showing images. As the journey involved putting up and breaking down individual tents each night, how they all had the energy to then get out and about in communities, taking pictures of landscapes, local characters, markets, and animals, was only to be marvelled at. It was a thoroughly entertaining evening and a lively Q&A session followed at which Mary said that the most friendly people on the way turned out to be the Iranians. This is quite surprising as this included both male and female Iranians, something not common in much of the male dominated societies through which they passed.
Pickering trip
Peter Maguire 21 October 2014
Alan Harle organised another of his photographic trips, this time to the 1940s revival weekend at Pickering in North Yorkshire. About 20 members tumbled off the minibus in Pickering and frantically rummaged in camera bags as a parade of WWII military vehicles roared past just as we arrived.
The town was packed with people dressed up in costume which made this novice street photographer's task all the easier – you could assume that they were expecting to be photographed if they were in costume. What was surprising to me as a first-timer, was the number of people dressed in 'civvies'; and many of the civilians, especially the spivs, made better photographic subjects than the military costumes.
We were fortunate to have a very sunny, warm day and although this created a few problems with high contrast, it made for a pleasant way to spend a Sunday, with plenty of interesting characters to photograph such as these two handsome specimens.
Many thanks to Alan for his organisation and I look forward to the next trip.
Vice President's Prattle
Peter Maguire 21 October 2014
After spending last week at the club showing us entries from the Northern Counties International Salon, Vince Rooker was again at the club, this time as judge in the first DPI competition of the year. I did not envy him this task as there had been 92 entries into the competition, a considerable number for anyone to assess. However Vince appeared to make the task seem almost effortless, and he managed to work his way through the 92 images with each one receiving constructive comments (and a score!) in the hour and a half of the meeting.
As always with competitions, the images and the marks received were a talking point in the bar afterwards, but I'm sure that everyone was in agreement that Joan Sheppard's winning image of 'Baobab Trees at Sunset' was worthy of its first place.
[The top 3 images are in the
Gallery
]
Vice President's Prattle
Peter Maguire 8 October 2014
Another good meeting last night as we were treated to a viewing of the award-winning prints from the Northern Counties International Salon presented by Vince Rooker. This event is always one that I look forward to as the range of entries that we see is always both inspirational and aspirational. Inspirational because it always sparks ideas that I might be able to incorporate into my own humble efforts, and aspirational because I know I'm a long way off achieving an international standard!
Vince regularly presents these prints on behalf on the NCPF, and I am always impressed by the knowledge he has of each exhibitor, often accompanying a print with a comment such as "this model is well known" or "this print is a departure from so-and so's usual subject matter". His efforts in bringing the prints to the club became all the more apparent when I helped him to carry the heavy print boxes down to his car. Vince is returning to the club next week as judge of the first round of our PDI competition, missing another of his club nights at Morpeth, and we look forward to his remarks and assessment of our efforts.
Additional information to the email newsletter of 4 October 2014
Assessment Day for PAGB Awards for Photographic Merit.
Saturday 18 October 2014
http://www.ncpf.org.uk/data/uploads/14-10-apm-workshop.pdf
Starting at 10am, this 'all day' event, costing just £5 (including refreshments) is to be held at Clara Vale Village Hall, Clara Vale, Ryton, NE40 0JE, and will be the first in a new programme of Assessment Days, sponsored by the PAGB, and as such will be open not only to NCPF members, but also to those of other Federations.
There will be an "introductory" structure in the morning devoted to presentations of the requirements and standards for the various levels. NCPF will present details of any local requirements.
In the afternoon we will look at a small sample of work (not more than 10) from potential entrants simply to inform them if their work is suitable and which level might be appropriate.
= = = = = = = = = = = = = = = = = = = = = = = = = = = = = = = =
NCPF Beamish Trophy Competition.
Tuesday 28 October 2014
http://www.ncpf.org.uk/data/uploads/14-10-beamish-trophy.docx
The competition will be for Prints and PDI, with the images having been only exposed during the period of 31st August, 2013 and 31st August, 2014 at Beamish Museum.
From Portrait Night
Some images from Don Smith taken on the fantastic 'Practical Night'
President's Prattle
Harry McAtominey 1 October 2014
We had our first practical night of the season, a session on portraiture. This followed last week's lecture on portrait lighting by Terry Harvey, so there was great interest in seeing how we could do. In fact there was greater interest than we thought, as the room was packed with members all keen to give it a go.
First and major thanks are due to Ron, Joan, and Ian who kindly brought along their lighting set ups, got there early to ensure everything worked, and then mentored each stand so that members new to using studio lights had someone at hand to help them set up and explain things. Terry had majored on Rembrandt lighting, but Joan had talked us into having three different set ups, High Key, Low Key and Rembrandt. This, combined with changing models, meant that everyone got a chance to take different shots in different circumstances.
Second, major thanks are due to our models, all volunteers, most of whom had never modelled before. It shows our member's ability to arm twist people as Kenny had talked his daughter and grandson along; Ian his wife and daughter; Joan had talked the Millstone's barman into sitting; and Ted as usual was game for anything.Great thanks are due to them as it was a very hot evening under the lights and it went on quite some time due to the successful pictures everyone was taking.
My role was just to ensure that the group system,(Pods apparently in USA Ryder Cup terms) worked well and every group kept circulating around leaving just a limited number of members at any one station at any time. It seems that most people thought it was very worthwhile, the place was buzzing, and good shots were in evidence. I did get the chance to peer over shoulders and check some of the images and some were just great. I foresee our first portrait competition this year will be over subscribed. Don't forget folks, a good portrait is just as likely to win an open comp as it is in the main competition. Also that the low key shots should work well in black and white.
The Millstone manageress came up to take some shots of Tony, just to embarrass him and I managed to get her to agree that we can hang a monthly picture on the side of the bar. The first one will be Alan's BBC weather calendar shot and this should appear next month. We will have to work out how we choose each month's entry, but that's for a later date.
Well that's all from me for a while. I'm off this afternoon for some well earned R&R and to give my vocal chords a rest after last night. Peter and Ron are hosting for the next few meetings.
President's Prattle
Harry McAtominey 26 September 2014
Tuesday night saw our first external speaker of the season, Terry Harvey from Chester le Street Camera Club. Terry was both speaking about, and providing a practical demonstration of, portrait lighting. This was beautifully timed as we have a practical session ourselves next week, so we were all eagerly looking forward to the night.
The first part concerned the origin of portraits, obviously originally through painting but later on through photographic means. Rembrandt featured heavily as he was the master of portraits as well as defining the most common means of angling light for natural portraits.Terry had an entertaining little section concerning reading character into portraits, and amusingly held a vote to determine if one particular portrait was of a master musician or the father of a notorious criminal. The majority thought it was the criminal which may say more about our members than the portrait.
Terry then set up his lights and explained all about the lighting set up; how to position each light; how to calculate what power each light should project; how to position the subject; and how to position the camera. One good point was not to look through the viewfinder, but to look past the camera so that the sitter can see the photographer's eye and so maintain contact. Finally there was a round up and an entertaining question and answer session.
Thanks to Juan for gamely being volunteered to be the sitter.
Terry provided an excellent start to our speaker season and following speakers will be hard pushed to match him.
President's Prattle
Harry McAtominey 18 September 2014
Tuesday night saw the club finally do something we have considered for several years, that is, to hold a question and answer session about pretty much anything to do with cameras and photography.
We have agonised over this in trying to work out whether too many "beginner" type questions would bore the more proficient members; whether we would get enough questions to fill the session; whether we would not get enough audience interaction etc. Despite all these doubts we pressed ahead.
A carefully chosen panel of experts was assembled, the uestions were prepared, and the evening commenced.
Joan was worried as to whether her voice would hold out, which it did through several quite detailed answers concerning how she gets the great effects we have all seen. I now know what fantasy fashion means, and how difficult and time consuming it is to imagine and then set up such shots.
Ron played the elder statesman role to distinction, explaining a number of features and functions and relating them back to the days of film to explain their significance.
Peter held forth on Macro and nature photography and Alan explained how he gets the type of winning landscape shots that he does. (All can buy the BBC's next weather calendar to see one of Alan's landscape photos).
The audience participated well, and our worst fears dissipated as not only did we have enough going on to justify the night, several questions were missed due to lack of time.
The only negative notes were the chairman's willingness to flaunt his unnecessary polysyllabic vocabulary, and the late withdrawal of our resident judge, a particularly sore spot with one member who wanted to quiz him on why judges hate HDR images.
Thanks to all who participated. The answers will find their way to the website soon, and we will consider hosting another session next year.
(Webmaster's note: The resident judge apologises for his absence and has
answered his question
on the blog.)
President's Prattle
Harry McAtominey 11 September 2014
We had the first meeting proper of the new club season yesterday.
In previous surveys, club members had suggested that we needed more nights of members showing their own images and discussing them among friends. As always on these type of events, you worry that not enough people will participate to make the event worthwhile. This was not the situation last night, in fact we had to make several members stand down from showing images, but only on the promise that they would be first to show theirs on the similar night in October.
We had showcased the night on a "what I did over the summer" theme, but in actual fact the range of images on show, and the discussion that went with it, showed that the members have been out and about doing all sorts of things all year long. The subjects ranged from nature; flowers and trees; abandoned and now being renovated train stations; to sports (yeah!) and landscape.
A great night, well received by a large number of attendees.
Finally a big round of applause for Alan Harle, who has had one of his images selected for the BBC Look North weather calendar this year. Alan was one member who didn't show anything last night, we so inadvertently deprived ourselves of some award winnings photos.
President's Prattle
Harry McAtominey 4 September 2014
I see Ron has very kindly put an entry up about my inaugural (and probably final!) presentation. It was kind of him to gloss over my failings.
I can assure you that the loss of place in my notes was due to blind panic and failing to put my reading specs on. I'd love to say it was theatrical device, carefully planned and executed, but you all know me too well to believe that. I did however think that my shot of the invisible woman came out well given that it was my first attempt at glamour photography.
The purpose of my note is to say that yet again Alan Harle organised an excellent photowalk on Wednesday night. Seven of us turned up and the objective was to take pictures of light trails. I went knowing that my evening would be curtailed as my battery charger had failed and I only had half a battery capacity. (managed to get it fixed the following day so I'm ok for pictures of the GNR on Sunday).
We eventually ended up on the Swing Bridge as the Quayside was set up for a rehearsal of Thursday's river extravaganza.
I have to say that IT'S GOING TO BE LOUD.When they went into some kind of disco intro, the swing bridge shook, even though the speakers were way down the quayside from us.
Both the Millennium Bridge and the Swing Bridge had lots of moving lights strung from them. This looked good to the naked eye but wasn't so good through the viewfinder. The Quayside itself did give good opportunities for shots, although my battery was exhausted by then.
Another great night out. Thanks again Alan.
The President Presented
Ron Henry 4 September 2014
Unlike the previous incumbent, it's unlikely that our new President will blow his own trumpet so I thought I'd have to do it for him. Last Tuesday, our first meeting of the season, was President's Night and Harry delivered a presentation with, so he says, the objective of setting the standard for member's nights for this year. Harry maintains that he set the standard so low that anybody who follows him will look really good. Well, if that was his idea of a low standard we're all in for a super season. Harry invited us to join him on his trip to New Zealand but it was not just a travelogue, but an informative and humorous presentation where he even feigned the loss of his place in his notes to help the audience feel more at ease – I think!
David, visiting us for the first time, was sitting next to me and he summed up the situation perfectly. "Well that was super, bodes well for the rest of the season, I'll be joining". Thanks Harry for getting us off to a great start.
President's Prattle
Harry McAtominey 29 August 2014
As you know, the club is hosting an exhibition of prints in Newcastle Central Library from August 28th to September 11th.
This has necessitated a great deal of work by a great many members. Initially it was recovering the old prints and frames from store at Britannia Picture Company and seeing which needed repair or replacement. Then we had to choose, resize, print and mount the new prints. Inevitably this meant some frames were broken or needed new glass so a second round of repairs and reprints were needed.
Then we had to plan which pictures looked good together and therefore went on which exhibition panel.
Ron wrote up some history of the club and got display panels prepared. Then last night a host of volunteers spent a great deal of the evening down in the Library, stretching up on ladders, to hang and display the pictures.
At the end of it we have an excellent representation of what the club is all about. I was there today and already there are a number of comments in the book about how good the display is. Get yourself along to see about 80 pictures, from every sort of photographic genre, (except sport, for some reason no sporting images were submitted). You will enjoy it, I guarantee it.
Thanks to all who helped, in whatever way. It was Herculean effort but well worth it.
And a comment from Ron Henry:
I made a point this morning of dropping into the Central Library to see the Club exhibition. It was early in the morning and the library wasn't overly crowded and despite the lack of good lighting in the exhibition area, people were stopping to look and read and, hopefully to enjoy, what is a great cross-section of member's work. A couple of the people I spoke to weren't members of camera clubs, one having no great interest in photography but they all said how impressed they were with the overall standard of the club's work. It's well worth a visit.
Club outings and Photowalk
Alan Harle 27 August 2014
Pickering 1940s Weekend: Sunday 12th October 2014. Cost £15 approx
Whitby Goths Event: Sunday 2nd November 2014. Cost £15 approx
Grassington Dickensian Event: Saturday 29th November 2014. Cost £15 approx
Photo walk doing Light Trails on Wednesday 3rd September 2014
Details from Alan Harle on Club Nights or
Tel 07818030537 Email alanharle10@gmail.com
President's Prattle
Harry McAtominey 19 August 2014
On Sunday 17th August a merry band of Gosforth photographers set out on another of Alan's extremely well researched trips,
this time to Kettlewell and Grassington, in the Yorkshire Dales.
The focus of the Kettlewell element of the trip was the annual scarecrow festival. Never having been to this before I was expecting a motley collection of half a dozen scarecrows scattered around the village looking forlorn and lost. What a surprise. There were dozens of scarecrows, all very artfully constructed.
A well laid out scarecrow trail led everyone around the village in between bursts of horrendous rain, about the only thing Alan didn't have under control.The winning entry was an extremely well put together train setting in which kids could sit and take their pictures. Although very impressed with this, for me the winner was an extremely lifelike Ed Milliband/Wallace scarecrow.
After that we decamped to Grassington where the weather blessed us with a very nice couple of hours. This enabled those that wanted to, to visit the falls, which were in full spate. Lots of members could be seen clambering around on the rocks trying for very artfully composed shots. Most members rounded out the day by having a restful coffee or two in the village centre.
Another fine trip and very well organised.
Grassington is about to host Dickensian themed weekends so I know Alan will be interested in another trip before the year is out.
Don't forget the club meeting recommence in two weeks on September 2nd. See you all there.